* Accuracy and currency are paramount to us. Please contact james.kopriva@dshs.wa.gov with suggested revisions to this page. *
---
FamHelp: Tools for Families of Residents in Long-Term Care
---
When and how may I visit my loved one in a long-term care facility?
The governor's temporary restriction of visitation has expired. Visits may resume at long-term care facilities subject to the limits of the Safe Start for Long-Term Care Plan.
The phases of this plan are different from the governor's new Healthy Washington plan. Local health departments will help long-term care facilities to determine phase status. We recommend that you call your facility of interest to learn their phase status.
The following graphic describes allowable visitation in each page. Refer to the Safe Start for Long-Term Care page for answers to common questions about the plan.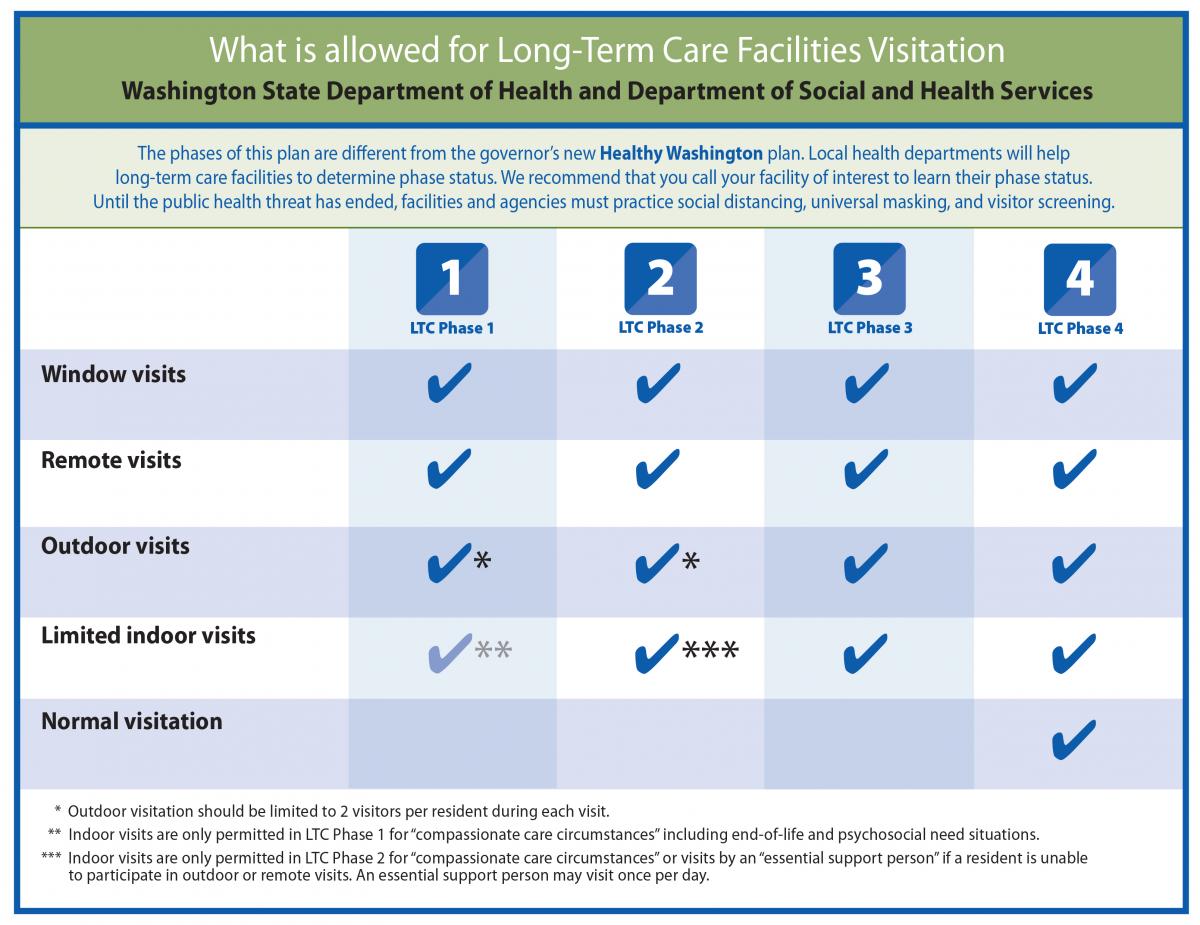 ---
How do I become an Essential Support Person?
In phases 1 and 2 of the Safe Start for Long-Term Care plan, only an "Essential Support Person" may visit a resident of long-term care indoors.
An Essential Support Person (ESP) may be appointed in "compassionate care circumstances" if a resident is unable to participate in outdoor or remote visitation.
Compassionate care circumstances are explained in this ALTSA Dear Provider letter.
To become an ESP, contact the facility of interest about their ESP policy. The resident must be consulted on who they wish to designate as an ESP.
An ESP may be asked to wait to visit until the facility can accommodate. ESPs may only visit once per day. ESPs may not visit during a required quarantine period.
ESPs may not visit a resident confirmed or suspected of COVID-19, unless that person has shown a "sharp decline in health status" qualifying as an end-of-life situation.
When permitted to visit, ESPs must wear personal protective equipment, wash their hands, and maintain social distancing.
---
Can residents leave long-term care facilities?
Residents may visit the community but will be subject to screening protocol and may have to quarantine for 14 days afterwards.
Long-term care residents are considered a "High-Risk Population" by the CDC and should stay home as much as possible.
Residents that leave a facility should expect an educational briefing before leaving and symptom screenings for several days after returning. Residents should wear masks, practice social distancing, and frequently wash their hands while away from the facility.
---
Vaccine Administration
Refer to the Department of Health COVID-19 Vaccine page for general information about the vaccine.
Long-Term Care Settings
Workers and residents in long-term care settings are included in "Phase 1A" of the state plan, meaning that they will be among the first to receive the vaccine.
Many facilities have enrolled in the federal pharmacy partnership program in which partnered pharmacies will administer vaccines onsite at long-term care facilities.
Local health jurisdictions will coordinate with facilities not enrolled in the federal program to ensure that they receive vaccines, but there may be a delay.
In-Home Settings
Clients that receive care in their homes and the providers that serve them are priorities in the state vaccination plan, but not all are included in Phase 1A. At this time, only home care workers at the highest risk of exposure are included in Phase 1A (see pg. 3 of this document for specifics).
Informational Flyers
---
How do I get a flu shot?
Uninsured adults may refer to this list of no-cost flu vaccine locations. Insured adults should inquire with their preferred pharmacy, primary care physician, or employer.
Refer to the Department of Health's flu page for more information. Influenza is highly contagious and may cause severe illness - a flu shot is your best defense.
---
Which long-term care facilities have COVID-19 cases?
Refer to our COVID-19 Dashboard for current reporting on facilities with recent reported virus activity.
---
What are good sources of information about COVID-19?
We observe guidance issued by the Washington State Department of Health (DOH) and the national Centers for Disease Control and Prevention (CDC). The Washington State Coronavirus Website is another important reference. Translations are available at the top of each of these pages.
For those with hearing loss, the Hearing Loss Association of America website has important information about communicating in health care settings.
---
Who can I call with questions about COVID-19?
For general questions about COVID-19, dial 1-800-525-0127 to reach the Department of Health COVID-19 hotline.
To reach a specific long-term care facility, refer to our directories below:
---
May I visit ALTSA offices?
ALTSA offices are currently closed to the public. Our services remain active and our staff remain accessible by telephone.