Nicotine dependence is the most common form of drug dependence in the United States. The National Survey on Drug Use and Health database shows that one of every three first time cigarette users become dependent. 
The Division of Behavioral Health and Recovery supports tobacco-free services and recovery environments.  As part of our tobacco-free initiative, we are supporting:
Workforce development
Public awareness
Reducing youth access to tobacco
Requiring tobacco use to be addressed in treatment planning
Evaluation
Substance use disorder treatment professionals are in the best position to treat addiction to nicotine.  We hope these resources will assist your efforts to provide treatment support for patients with nicotine addiction and create a tobacco-free treatment environment.  For more information about DBHR's Tobacco Free Initiative, contact Paul Davis.
As the graph below shows, an extremely high percentage of the patients we serve have nicotine addiction.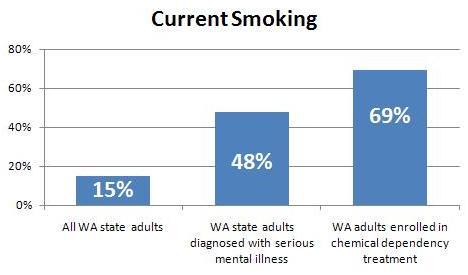 Examples of Current Policies
Training and Information Resources
Tobacco Free Efforts in Washington
National Efforts
Additional Research