Program
Patient and Family Education Services is a program contracted through Pierce College.  Instructors are teachers, licensed and certified by the State of Washington, who provide education to patients throughout the Hospital.
Western State Hospital prioritizes patient education.  Within a few days of admission, each patient is evaluated to assess their literacy, identify areas of educational need and interest, discover potential barriers to learning, and establish preferred learning styles.   Education materials are designed and applied with the patient in mind and focus on teaching and reinforcing skills necessary for individual patient recovery and reintegration to the community.  Instructors use a variety of evidenced-based methods and best practices to reach and engage all learners while carefully assessing to assure understanding and application. In addition, academic, certificate and degree programs are all offered at no cost to patients. 
Technology and Digital Inclusion
Education in the modern world goes far beyond the basics of reading and writing.  To address our technologically-driven society, the Hospital dedicates resources to move patients toward digital inclusion as technology increasingly connects individuals to education, employment, health care information, support networks, and other critical services.  Exposure to the technology available in our computer labs allows our students to develop familiarity and proficiency with the tools necessary for employment and heightened quality of life. 
Education and Recovery
Nearly 30 percent of patients admitted to Western State Hospital report they did not complete high school and more than 45 percent assess as functionally illiterate.  Studies have shown that people with mental illness have difficulty accessing and completing secondary and post-secondary education.  Without educational achievement, individuals increasingly face poverty, social isolation, increased risk of addiction, and deteriorating mental and physical health.  When patients attend classes, they have opportunity to expand their knowledge on a wide variety of topics of interest, work on social skills, complete tasks, and graduate from courses which can foster a sense of pride in personal accomplishment and provide significant impetus toward recovery.
Education is essential to recovery, and recovery is a profoundly social process. Integral to this process is learning effective and socially appropriate ways of being in the company of others. Active participation in education classes teaches and reinforces these skills while encouraging their application to the patients' personal, social, and professional lives.
Family Education
In addition to the academic class offerings, our program is intended to support friends and family members of WSH patients.  We recognize that when someone you love lives with a mental illness, the effects often extend beyond the individual to affect the lives of family and friends.   Having a meaningful support system in place can be a critical factor toward successful recovery.
Family education can help those persons supporting people with mental illness to remain courageous in the face of what may seem to be insurmountable challenges. It is a field of psychiatric rehabilitation that provides families with useful information about mental illness, offers coping strategies and enhanced personal management skills conducive to better support their loved ones.   In addition, families often find comfort, strength, and support in knowing other families are experiencing day by day situations similar to their own.
The hospital's semi-annual education events provide family members regular opportunities to learn more about mental illness and how it affects their loved ones. Family members can also gain a better understanding of what symptoms to look for to help their loved one access appropriate services sooner, potentially avoiding unhealthy situations.   During family education sessions, participants also learn techniques for fostering hope and recovery, which can reduce stress, improve communication and strengthen relationships.
If you would like to attend one of our education events, or if you have questions about our services, click on the link provided at the bottom of this page.  When contacting us, please remember, we make every effort to protect our clients' privacy and cannot discuss a patient's presence at the hospital or his or her plan of treatment.  For questions regarding treatment, discharge planning and visiting, contact the ward treatment team or call the WSH Switchboard at (253) 582-8900.
Health Education Library and Patient and Family Handbook
We maintain a health education library consisting of a variety of materials available to patients, staff, and family members.  Topics vary from diagnostic considerations and medication education, to diabetic care and smoking cessation.  We also update the Patient and Family Handbook annually (a link is provided below).  This handbook provides an overview of Hospital services, DSHS policies, and patient rights, as well as Hospital contact information.
All classes and resources are free of charge to patients and their families. 
Questions or comments?  Send us an email.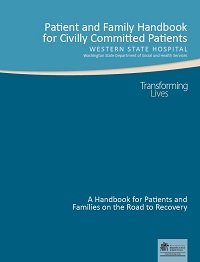 2018 Patient and Family Handbook