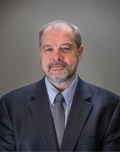 Bill Moss is the Assistant Secretary for the Aging and Long-Term Support Administration (ALTSA) a post to which he was appointed to February 2013. As part of delivery of long-term services and supports, the Assistant Secretary has the responsibility for oversight of the Washington State Council on Aging (SCOA), the state's Area Agencies on Aging and all publicly funded long-term services and supports in Washington State.
Over the past two decades, Bill has provided leadership in a number of positions in ALTSA which include Director of the Home and Community Services Division, Office Chief for Home and Community Programs and Assistant Regional Administrator for Home and Community Services.
Washington's long-term services and supports system, serves more than 74,000 citizens; the 2014 AARP Long-Term Services and Supports Scorecard ranked Washington 2nd in the nation.
Bill received the Governor's Distinguished Management Leadership Award in 2001 and 2015; he was presented the 2000 Assistant Secretary's Quality Leadership Award. In 2013, Bill, along with all 1500 of his staff, received the Department of Social and Health Services Secretary's Award for National Excellence in recognition of national leadership in the provision of home and community support services.