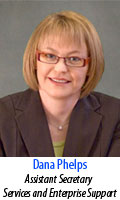 Dana Phelps, is the Assistant Secretary for the Services and Enterprise Support Administration (SESA).
Dana has been in her current position since February 2016. Her team works with local, state and federal governments, elected officials, clients and the public on policy, rules adoptions, privacy and records issues, and in administrative hearing processes and appeals and human resources, information technology, continuous improvement, risk management and communications. The offices of Indian Policy and Equity, Diversity and Inclusion also are part of the Administration.
Dana has worked in the Rehabilitation Administration where she covered a wide range of policy and operations issues. Dana has worked in DSHS programs serving children and youth for over 22 years, beginning her career as a counselor at Maple Lane School in 1991. ..
She has a Bachelor's of Arts in Psychology and a Master's of Education, Guidance and Counseling from Saint Martin's University.