Let us help you succeed in your small business!
We look for opportunities to partner with Diversity Suppliers across our Department. Our goal is to procure at least 5% of our products and services from Diversity Suppliers who qualify as a small business.
What is a small business?
In Washington state, a small business is defined by law as one that employs 50 people or less, and is independently owned and operated.
Do you qualify?
You may become a diversity supplier if you are a licensed small business owner and one or more of the following applies to your business:
Minority-owned
Woman-owned
Veteran-owned
Socially or economically disadvantaged
What we buy
The Department purchases a wide variety of products and services from small business diversity suppliers.
Interested in becoming a diversity supplier?
Don't have a business license yet?  Apply online with a Master Business Application
Veterans can find out how the Washington State Department of Veteran's Affairs can promote their business.
Bidding opportunities for your business:
Read or print a Diversity Supplier Brochure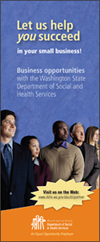 You may also want to visit: