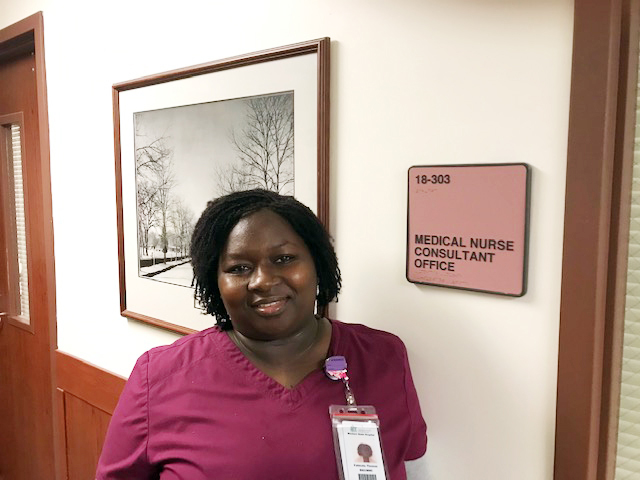 Fatmata Thomas was in high school when her life changed.
That is when her stepmother was diagnosed with leukemia. It's also when Thomas knew what she would do with her life.
"The nurse who took care of her was so caring and so supportive," said Thomas, a medical nurse consultant at Western State Hospital. "There was so much going on and she took the time to sit with me and talk to me. As soon as I went to college I knew what I wanted to do and went straight into it.
"I've never regretted that decision."
A native of Sierra Leone, Thomas and her family immigrated to America in the 1990s and settled in the Atlanta area.
"It was different but we learned to assimilate," she said. "My parents have always been supportive and made sure I went to school and got an education."
She earned a bachelor's degree in nursing from Clayton State University in Morrow, Georgia, and has been nursing since 2003. Four years ago, Thomas began nursing in Washington, first at the Child Study and Treatment Center before she moved on to Western.
"I was lucky enough to know what I wanted to do and came out of school at a fairly young age and nursing has been amazing to me," she said.
But the job can be tragic. As one of the hospital's medical nurses, Thomas is often first on the scene when Western has a rare "code blue" situation that calls for life-saving measures.
"Her rapid responses always go really, really well," said Amy Bueler, the medical nurse consultant supervisor at Western. "She's really willing to do whatever she needs to do to come to the patient."
It helps that Thomas has an effervescent personality that draws smiles through the hospital.
 "She is super friendly, super bubbly," Bueler said. "It's kind of hard to find in a night shift person."
Thomas said she makes a conscious effort to have a great attitude because it makes the hospital better for everyone.
"That is something I work on every day," she said. "Sometimes things happen and you want to cover your head and not think about it, but this is my job.
"I'm here making a difference, and the least I can do is smile through it."
Whether she is smiling at and reassuring a patient or bringing in food for a pot luck on a day off, the way Thomas approaches her job makes a difference to staff and patients alike.
"She's just so happy and friendly that it's kind of contagious," Bueler said.
(Story by Rob Johnson)