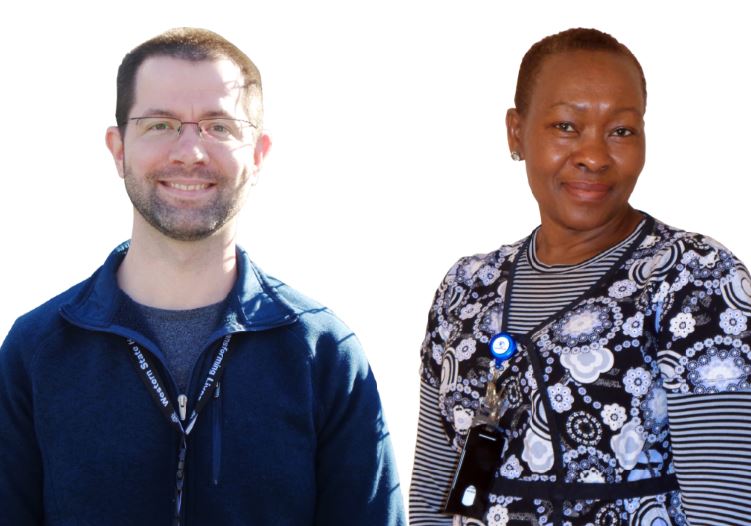 To the casual observer, Leah Warui and Corey Furulie may have little in common.
Warui was born in Kenya and lived in Texas before moving to Washington. She has a dynamic personality that patients and staff relate to and is the mother of two adult children.
Furulie grew up as the son of a logger in Snoqualmie. He is quiet and unassuming and — except for 10 months spent during an internship in Arkansas — has never lived outside of Washington.
The things Warui and Furulie have in common, however, bind them together in a unique way. They are both registered nurses at Fort Steilacoom Competency Restoration Program who have embraced education as the foundation of their nursing careers.
Furulie and Warui each have master's degrees in nursing, a level of education beyond many of their RN peers, and something that makes a difference in how they care for patients, said Jey Engelhardt-Parales, the nurse supervisor at FSCRP.
"The higher educated you are, the more aware you are of what you should do and you are in a more evidence-based mindset," Engelhardt-Parales said. "You apply that higher education on the floor. Nursing has changed. … We're the doctor's eyes and ears."
Warui, who moved to McKinney, Texas, for college, began nursing in 2007, and attained her master's degree from the University of Texas at Arlington in 2018. Her nursing career has included geriatrics, hospice care, medical-surgical, and psychiatry.
She began working at FSCRP in September 2019, and because she works with patients from admission to departure, she has a window into the psychiatric improvement of many people who pass through the hospital.
"I believe that is the best way to know where the person is," she said. "If there are any changes, I would know between the time they enter and how they progress while they are in the facility. It brings me a lot of joy to know that I was part of making that happen."
Furulie took a more indirect path to working with psychiatric patients. He earned a psychology degree from Western Washington University in 2003 and briefly worked in retail.
"I wanted something more," he said. "It wasn't very fulfilling."
A family member's heart attack prompted Furulie to get a master's degree in nutrition from Bastir University, and he followed that by getting a master's in nursing from Pacific Lutheran University. Furulie began nursing in 2012, first as a dietician, then as a certified diabetes educator, and later with Easter Seals Washington, where he worked with children and disabled adults.
He joined FSCRP in February and has found that his previous nursing work crosses over in many ways to working with psych patients.
"There's a lot of overlap," Furulie said. "A lot of the behavior health aspects are similar to diabetes education. It's a little different than other jobs, but for me it's always been about the patients."
Although Warui and Furulie have different backgrounds and approaches, Engelhardt-Parales said both reflect the mission and values of nursing through compassion and respect for patients. 
"She sits down and communicates with the patients and really listens to their needs," Engelhardt-Parales said. "I tell the nurses to know their patients. That's the only way you can really help them. Be there and be approachable. I see that in Leah.
"Corey is very, very quiet. When you have an agitated patient and someone approaches in a mellow voice that is non-threatening, the patients reflect that."
The two have something else in common besides their profession.
"I like the weather," Warui said. "Texas is very hot."
Furulie's love of the Pacific Northwest climate is a bit more extreme.
"When I was (in Arkansas) it was so bright out. I was getting depressed because it was so sunny," he said. "This is home." 
 (Story by Rob Johnson)