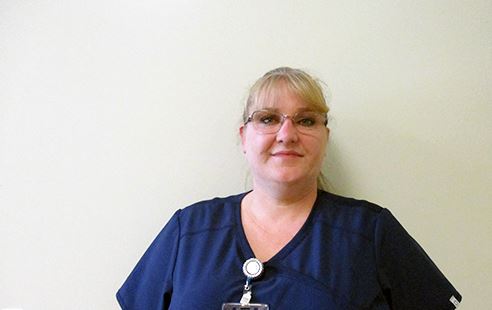 Sometimes a nurse shows a patient they care with a simple gesture. It could be a smile or even holding their hand while looking the patient in the eye and reassuring them that everything will be all right.
Western State Hospital RN2 Margaret Taylor did much more than that in February, when she and Mental Health Technician, Shandra Stilson, boarded a flight with a patient who was relocating to a facility near her son in Carson City, Nevada.
Before going to the airport, hospital staff helped the patient prepare by cutting her hair and manicuring her nails. Taylor even bought new clothes for the woman. Taylor and Stilson were asked to accompany the patient because they had built a relationship with her during her time at the hospital.
"They're not just names or numbers to us. We want the best for them," said Taylor.
According to Steffanie Hibbard, nurse manager, familiarity with the patient was not the only reason Taylor was selected for the unique trip.
"Every patient knows that they can sit down with Taylor and get what they need. And somehow she gets all her work done," Hibbard said. "I wish I could have 20 of her."
The trip was a whirlwind of activity for Taylor and Stilson. Once they landed in Reno, they navigated through the small airport and drove a rental car 30 minutes to Carson City to connect the patient with her son.
"He thought she looked beautiful and was truly grateful for everyone at WSH," Taylor said.
Although it was a busy and occasionally challenging trip, Taylor said she is happy she had the opportunity to do something special for the patient.
"We would do it again just because it was worth it for her to be with her family," said Taylor, who has been a nurse at Western since 2016. "It was tiring, but it was worth it overall."
(Story by Rob Johnson)