DSHS Office of Communications
kathleen.spears@dshs.wa.gov
LAKEWOOD— In coordination with local law enforcement offices, Western State Hospital has revised its policy on patient escapes and unauthorized leaves to ensure that law enforcement has accurate, reliable, timely and appropriate information to protect their safety and the safety of the public when responding to a missing patient report.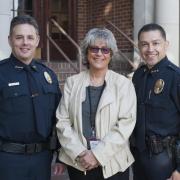 "The staff at WSH made extraordinary effort to include police and other stakeholders in their policy review process. Updating policies for an entity the size of WSH is neither quick nor easy. CEO Strange and her staff should be commended for their dedication and determination to make these necessary improvements," said Lakewood Police Chief Michael Zaro. "I am confident that the work they did will result in a more efficient response from police and, more importantly, a safer environment both in the hospital and in the surrounding communities." 
Highlights of the revised policy include:
A clear definition of the differences between escapes and unauthorized leaves,
Clarity as to individual roles of clinical, nursing, security, escort, communication and administrative staff in response to escapes and ULs,
A streamlined process for timely notification of the incident, including the circumstances for implementing an incident command structure,
More specific information for law enforcement responding to an escape or UL at WSH:

Clear outline of the level system for civilly committed patients. More advanced levels allow for patients to have grounds privileges and  police must have accurate information about the heightened risks and needs associated with individual patients
Timely information about a missing patient's most recent assaultive or threatening history.  
Under the revised policy, both escape and unauthorized leave status are defined as patients who leave a supervised setting on or off grounds without staff permission or patients who fail to return from grounds privileges or authorized leave at the prescribed time.
"Western State Hospital is a good neighbor and demonstrated a willingness to collaborate with local law enforcement agencies to ensure we have the information we need to protect our residents," said Chief T. J. Rodriguez of the Steilacoom Department of Public Safety. "Our department appreciates the hospital for seeking local feedback and suggestions as they created a policy which balances the community's safety with the safety needs of the hospital's patients."
"Clearly defined and easy to understand policies and safety procedures are the backbone of a well-functioning hospital operation," said Cheryl Strange, the hospital's Chief Executive Officer. "This is particularly critical in a mental health facility that serves a diverse population of individuals with serious and persistent mental illnesses who may also have significant criminal histories.  While the majority of patients treated at Western are not considered dangerous, it's important that police, the community and hospital staff know as soon as possible when a patient is missing and whether the patient is a threat to others or to themselves.  
"We worked with multiple stakeholders, including law enforcement from Lakewood and Steilacoom, the state Office of the Attorney General, and the Department of Social and Health Services' Privacy Officer to ensure that people who may be involved in searching for missing patients had a voice in the updated policy," Strange said. "Their participation in ensuring that we have solid and easier to understand safety procedures in place, speaks to their support of work we do at Western to treat mentally ill patients so they can successfully live in their own communities."
Unauthorized patient walkaways at WSH have dropped dramatically from 181 in 2014 to 81 in 2015. March 2016 was the first month in years with no reported "unauthorized leave" incidents. From May through September there were 16 unauthorized leaves, of which four were reported to law enforcement. 
# # #
DEFINITIONS:
Escape Status
The escape status applies to patients residing in the Center for Forensic Services or Habilitative Mental Health Unit who are being evaluated for competency or receiving competency restoration services; patients found Not Guilty by Reason of Insanity (NGRI), or who are NGRI and have a court-ordered conditional release to either the CFS Community Program at WSH or in the community.  Patients on a conditional release in the community are on escape status if they fail to meet with their supervising staff at the determined time.  Community Program patients at WSH are considered escapees immediately when unaccounted for whether on hospital grounds or during off-campus, supervised outings. 
Escape status also applies to patients civilly committed after being found incompetent to stand trial for a violent felony (referred to as 1114 patients) and civil patients with a jail hold, requiring the patient to be taken into custody by law enforcement.
Unauthorized Leave
Unauthorized leaves apply only to patients civilly committed, who are not 1114 patients and do not have a jail hold. 
The new policy directs Western State Hospital to provide law enforcement with a history of the missing patient's assaultive and threatening behaviors during the past 30 days, providing law enforcement with more up-to-date information on risky behavior. They can use this timely information to better assess their response in community notification. 
A copy of the policy is here. 
The Behavioral Health Administration provides inpatient and outpatient psychiatric treatment, recovery support along with prevention and intervention programs for people with mental health needs and substance abuse concerns. It operates three state psychiatric hospitals that deliver high-quality services to adults and children with complex needs. BHA's team of 2,804 staff ensures that nearly 150,000 people receive needed services each year on a $910 million annual budget.