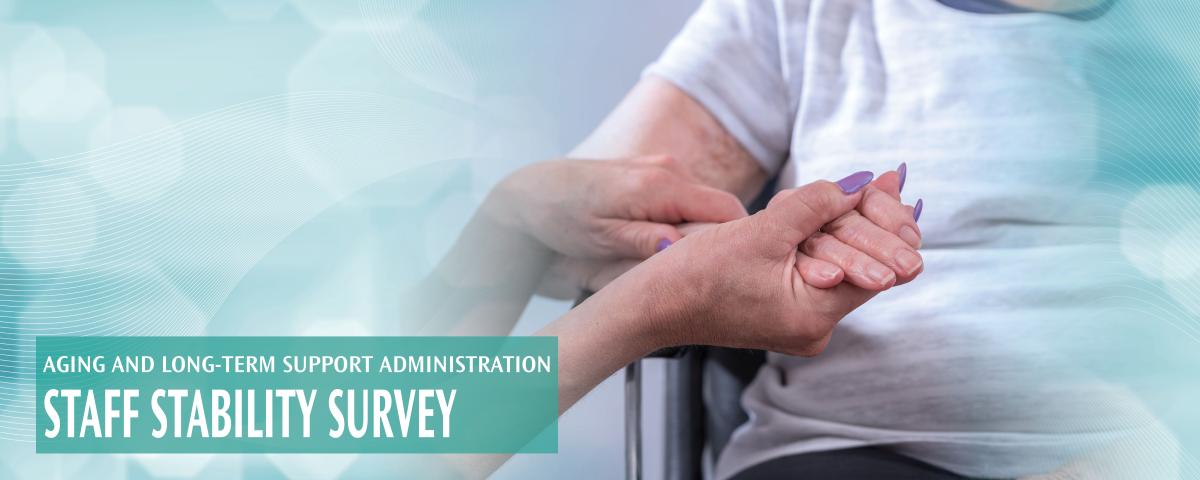 The Aging and Long-Term Support Administration (ALTSA), in collaboration with ADvancing States (ADS) and the Human Services Research Institute (HDSRI), will be conducting a pilot of the Staff Stability Survey-Aging and Physical Disabilities (SS-AD) to gather information about the strengths, weaknesses, and trends of the direct care workforce. Washington is one of five states participating in the pilot survey.
Facility providers are needed to participate in the survey to collect important data that has the potential to impact future national and state policies related to long-term care.
---
Quick Info

Which providers are invited to participate? 

​​Adult Family Home Providers
Assisted Living Facility Providers
Home Care Agencies
Adult Day Centers

How do providers access the survey?​

An email with a unique link to access the survey will be emailed to providers in September 2020.

How long do providers have to participate in the survey?

​The deadline to submit survey responses is October 31, 2022.

Resources for Providers

Video Resource | This resource is a video that goes over the background of the survey, why it is important and what providers can expect. Password to access the video is: QRc9!t@g
PowerPoint Presentation | This resource covers basic information about the survey and data from the 2020 survey.
Letter to Providers | This resource is a letter that was sent to Providers in July that informs them about the upcoming survey, its importance, dates and how providers can participate.

Survey results will help ALTSA learn how to improve the quality and stability of the direct care service workforce. 

 

Ongoing survey results will give participating state agencies, providers, and stakeholders critical information to help shape future policies that impact you and the people you support!

---

If you have questions or cannot locate the email with your unique survey link reach out to providerstabilitysurvey@dshs.wa.gov

Resources for Partner Organizations

ALTSA appreciates the support of its partner organizations in spreading awareness to providers about the opportunity for them to participate in the survey. To make outreach cohesive and easier on partner organizations ALTSA has developed various resources to support messaging efforts.

Outreach Toolkit | This resource contains information and outreach materials such as newsletter articles, social media posts, website content, etc. 
One Pager/Flyer | This is a single-page resource containing information for providers about the survey. This resource can be distributed through print or email.