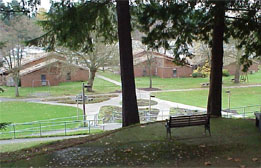 Fircrest School provides support to about 200 people with intellectual and developmental disabilities in a residential setting. Its employees take pride in providing excellent care and service to the individuals who reside at Fircrest.
Fircrest School was established in 1959 within a facility that was a Naval Hospital and later became a Tuberculosis Sanitarium. The Fircrest care philosophy, like many state facilities, has changed throughout the years from a medical model to a person-centered model. The individual is now at the center of the process and receives encouragement and training to grow and be as independent as possible to move to a less restrictive environment, preferably in a community setting.
Located in Shoreline, just north of Seattle, Fircrest School has excellent access to the major medical and educational facilities that support the individuals who reside at Fircrest. Its location also allows the individuals who reside at Fircrest the opportunity to participate in many of the sporting, cultural and outdoor events held in the Seattle area.
Services to the individuals who reside at Fircrest are partially funded through two different programs that are regulated by the Centers for Medicare and Medicaid Services. The Nursing Facility within Fircrest provides individualized health care and activities to persons who have unique medical needs. The Intermediate Care Facility for Individuals with Intellectual Disabilities (ICF/ID) provides individualized habilitative services that support and enhance individual skills and strengths.
Admission to Fircrest School is coordinated through DDA Region 2 Field Services staff. Referrals are received statewide.