What is the Dan Thompson Account?
The Washington State legislature established the Dan Thompson Developmental Disabilities Community Services Account in RCW 71A.20.170. State grants are made to community organizations providing "supports and services in a community setting to benefit eligible individuals with developmental disabilities. Expenditures from the account must supplement (not replace, supplant, or reduce) current state expenditure levels" or duplicate Medicaid HCBS waivers.
Where are the second round Application materials?
The Department of Social and Health Services' Developmental Disabilities Administration is excited to announce the release of the new application for the Dan Thompson Memorial Developmental Disabilities Community Services Account funding! The application closes at 5:00 pm PST on January 19, 2024.
Dan Thompson Account – Questions & Answers (forthcoming)
Who can Participate?
Washington State organizations can apply for grants during open solicitation periods.
Grant solicitation information like Solicitation Instructions, Funding Guidance, and Application Forms will be listed here during an open application period.
Where did the first round Awards go?
Projects have been awarded in the counties highlighted in the state map below.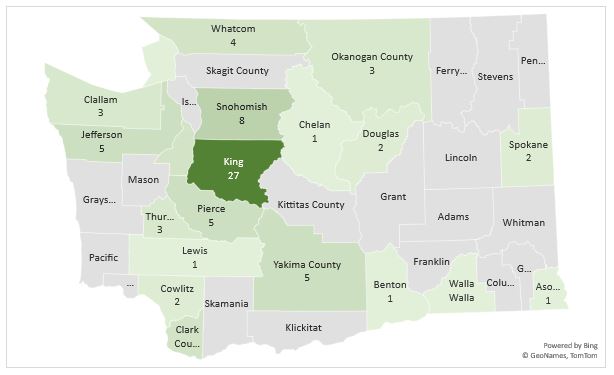 Who can I contact?