An important part of our work is making sure that our services are meeting people's needs. When the legislature finds areas for improvement, we work with the IDD community to come up with possible solutions. We take that feedback, study how to make it work, and report to the legislature with the results. If the solutions cost money, we include that in the report.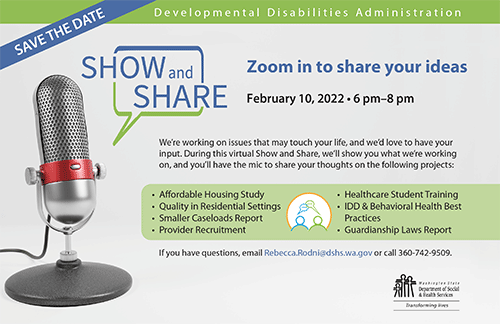 We are hosting virtual Show and Share events for community members to help guide our work on projects in their early stages. If any of these projects touch your life, we would love to hear from you.
Please Zoom In to share your ideas at our Show and Share!
January 27th, 2022, from 11:30 am to 1:30 pm
February 10th, 2022, from 6:00pm to 8:00pm
We will show you what the projects look like in this early stage. And you can help guide our way by letting us know what success looks like to you.  Learn more about our projects in the one-page documents below.  Register to attend Show and Share breakout sessions for the projects that most interest you!
Current projects are focused on:
Comments