ALTSA COVID-19 Bulletin: Oct. 22, 2020
This update is compiled weekly. Please direct all media inquiries to Chris Wright.
---
Long-Term Care Facilities (LTCF) Reporting Cases of COVID-19
This count is derived from provider self-reporting and public reporting to Residential Care Services (RCS) Complaint Resolution Unit (CRU). This count reflects our current understanding of facilities with confirmed reports COVID-19 infection among residents and/or staff. We cannot fully guarantee the accuracy nor the currency of this count.
As of July 30, a total of 536 facilities have reported a case of COVID-19 at any point in the pandemic.
(October 22, 2020) - List of Skilled Nursing Homes, Assisted Living Facilities with Confirmed Reports of Staff/Resident Case of COVID-19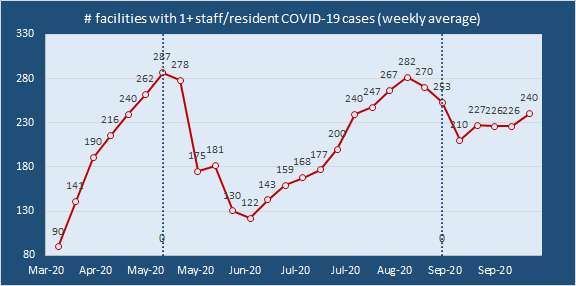 (In late May, ALTSA began to survey facilities and delist those that reported being free of active infection.) 
---
What you need to know this week:
Safe Start for Long Term Care plan announced.
On August 6, 2020, Governor Inslee announced the Safe Start for Long-Term Care plan. The plan establishes criteria for long-term care facilities to safely conduct visitation. The plan also prescribes policy related to trips outside the facility, communal dining and group activities, testing and screening, source control and PPE, and staffing. A summary is available here.
Visit DSHS.WA.GOV/ALTSA/FAMHELP for more information about visitation to long-term care facilities.
# # #
Department of Social and Health Services, Aging and Long-Term Support Administration
https://www.dshs.wa.gov/altsa/covid-19-dashboard
Media Contact:
Chris Wright | (360) 902-8338 | wrighcd2@dshs.wa.gov