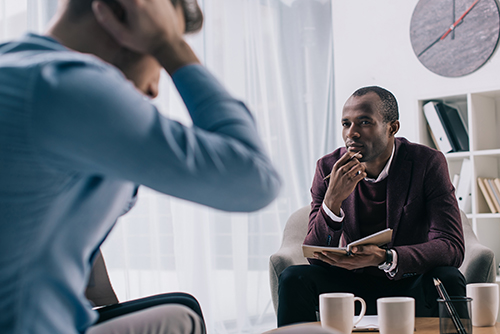 Nicole Mims' voice cracked with emotion as she told the story of the first client to be housed through a program created as part of the Trueblood Contempt Settlement.
That moment is just one of many milestones that have been reached through collaboration, innovation, initiative and hard work as the Washington Department of Social and Health Services, the Health Care Authority, law enforcement and many community partners since the first phase of Trueblood implementation began in three regions on July 1, 2019.
Over the last year, the state has worked to build capacity so people experiencing mental illness and awaiting competency evaluations and restoration services while incarcerated receive them in a timely manner and in an appropriate setting.
"Through partnerships with many local communities across the state, we've been able to make progress in transforming care for individuals who intersect with the criminal justice system in Washington this past year," said DSHS Secretary Cheryl Strange. "We need to keep moving and help support those communities to make lasting changes for a better system of care in terms of both quality and timely access. I am happy that we have developed the state's first forensic navigators program and that we have successfully opened the Fort Steilacoom Competency Restoration Program, which helps to meet the increasing demand. We have a long way to go in transforming the behavioral health system, and our key to success will be to get services to individuals with behavioral health disorders as early as possible long before involvement with the criminal justice system finds them. How we care for those with behavioral health disorders is a measure our humanity as a state. Our work with our state, county and local partners is never done."
The Trueblood vs. DSHS lawsuit challenges unconstitutional delays in competency evaluations and restoration services. Because DSHS has implemented the court-ordered requirements of the settlement agreement, more than $66 million in contempt fines have been held in abeyance.
This work — much of it done while the state grapples with the COVID-19 pandemic — has involved the creation of two programs new to Washington — one of which is the first of its kind in the U.S. The DSHS Office of Forensic Mental Health Services launched a forensic navigator program, and those navigators will begin working with clients on July 1. Forensic navigators serve as officers of the court, interim case managers, and community liaisons who work one-on-one with clients to perform quasi-case management duties to ensure clients are supported as they move through the forensic system.
HCA's outpatient competency restoration program is a first of its kind and works to move eligible class members from jails and into community-based services.
"A year and a half ago, this idea of the forensic navigator program and outpatient competency restoration program were just words on paper," said Monica Reeves, the program administrator for the Outpatient Competency Restoration Program. "In this last year we've taken the idea and functions of these programs and created these really robust models. Going from nothing to having these very strong programs in just a year's time is incredible."
The list of milestones is long, and includes Senate Bill 5444 becoming law and authorizing the creation of the forensic navigator and outpatient competency restoration programs, the hiring of nine navigators and 13 forensic evaluators, the addition of 90 crisis beds and the jail technical assistance team's publication of the "Best Practices for Behavioral Health Services in Jail Settings" guidebook.
"The awareness across a huge number of stakeholder groups about what we do and why it matters (is impressive)," said Trueblood Project Manager Aura MacArthur. "(From) law enforcement, tribes, the legislature, community groups, there's way more awareness now than there was a year ago. To me that's a huge win."
Additionally, HCA's Housing Recovery Through Peer Services and Projects for Assistance in Transition from Homelessness programs have secured housing for 150 people since those services began being offered in March. Mims is the HARPS program manager, and she was overcome with emotion when she shared the stories of clients who have been provided housing.
DSHS and HCA collaborated to create a curriculum for certified peer counselors, individuals who have lived experience and support those involved in the criminal court system.
"Before recovery I spent a lot of time wondering, 'How can I get anywhere from here?' I know now that I could not have gotten 'here' from anywhere but 'there,'" said Teri Owens, a certified peer counselor.
June 30 marks the end of the first year of Phase 1, which includes Clark, Skamania, Klickitat, Pierce, Spokane, Ferry, Stevens, Lincoln, Adams and Pend Oreille counties.
Meanwhile, DSHS and other state agencies have been working to ensure a smooth implementation of Trueblood-required programs in King County, which is the focus of Phase 2 that begins on July 1, 2021.