Trueblood Task Force
June 26, /2020 – Milestones from the first year of Trueblood implementation (PDF)

June 27, 2019, the State of Washington submitted the final Trueblood Implementation Plan to the Court. This plan is high-level view on how the state will successfully implement what is in the agreed settlement within the Phase 1 regions.

If you have any questions or concerns, please email us at truebloodtaskforce@dshs.wa.gov.

June 17, 2019 - In December 2018, the U.S. District Court of Washington approved a contempt settlement agreement (Trueblood Settlement Agreement) in the Trueblood as Next Friend of AB et al. v Washington State Department of Social and Health Services lawsuit. As part of that agreement, the two interim competency restoration programs located at both the Maple Lane facility and within the Yakima Department of Corrections facility will close. See letter (PDF) for more information.
Dec. 12, 2018 - At a fairness hearing yesterday, 12/11/18, Federal Court Judge, Marsha Pechman, granted final approval of the settlement of contempt agreement between DSHS and Disability Rights Washington. You can see the final approved settlement of contempt agreement here (PDF).
Nov. 19, 2018- Trueblood Information and Training on Proposed Settlement of Contempt – learn how to comment on the proposed preliminary agreement related to the Trueblood lawsuit and how you can get involved by watching this video. For more information please contact Disability Rights Washington by email at Trueblood@dr-wa.org; by phone at (206) 324-1521 or toll free (800) 562-2702 – please note DRW accepts collect calls from jails.
You can also visit the DRW website at www.disabilityrightswa.org/Trueblood
Nov. 1, 2018 - The Department of Social and Health Services and Plaintiffs have received preliminary approval for the amended proposed Trueblood settlement of contempt from the court.

The next step is for the parties to issue a class-action notification and attend Fairness Hearing (scheduled December 11, 2018).

Any class members with questions should reach out to Disability Rights Washington at any of the contacts listed below.

By mail: Disability Rights Washington, 315 5th Ave. S., Seattle, WA 98104

By email: Trueblood@dr-wa.org

By phone: (206) 324-1521, toll free (800) 562-2702. DRW accepts collect calls from jails.

Trueblood website: www.disabilityrightswa.org/Trueblood

More information will be available after the December hearing.

Update – Oct. 26, 2018

On Oct. 25, 2018, an amended preliminary approval of a settlement of contempt agreement was filed in Federal Court with regard to the Trueblood et al., v. DSHS, et all. The initial agreement was filed in August 2018.

This amended proposed settlement of contempt was approved by Western District Court of Washington Judge Marsha Pechman.

The settlement of contempt was disseminated to class members (individuals with mental illness waiting in jail for competency evaluation and restoration services) with an opportunity for them to provide feedback. The court will review feedback during a hearing this fall and grant final approval if it determines the proposed agreement meets class members' needs. 

All parties expect that this multi-year, multi-phase plan would resolve the issues in this case and bring the state into compliance with the court's orders. The ultimate goal of the plan is to reduce the number of people who become or remain class members, timely serve those who cannot be diverted from becoming or remaining class members, and focus on effective outcomes and successes of existing programs in Washington.

We will update you with more information as it becomes available. The proposed agreement along with other information related to this case can be found here. If you have questions please send an email to the Trueblood taskforce at truebloodtaskforce@dshs.wa.gov.

Update Aug. 17, 18 (PDF)
Trueblood update 2/6/18 (PDF)
Key Principles (PDF)
One Pagers
Background on Trueblood
All criminal defendants have the constitutional right to assist in their own defense. If a court believes a mental disability may prevent a defendant from assisting in their own defense, the court puts the criminal case on hold while an evaluation is completed to determine the defendant's competency.
If the evaluation finds the defendant competent, they are returned to stand trial. However, if the court finds the evaluation shows the person is not competent, the court will then order the defendant to receive mental health treatment to restore competency. 
In April 2015, a federal court found that the Department of Social and Health Services was taking too long to provide these competency evaluation and restoration services.
Trueblood v DSHS (Trueblood) is a case challenging unconstitutional delays in competency evaluation and restoration services. As a result of this case, the State has been ordered to provide court-ordered competency evaluations within 14 days and competency restoration services within seven days. Trueblood helps individuals who are detained in city and county jails awaiting a competency evaluation or restoration services and individuals who have previously received competency evaluation and restoration services, who are released and at-risk for re-arrest or re-institutionalization.
A Trueblood taskforce is a collaboration between Class counsel, The Department of Social and Health Services, the Attorney General's Office, and the Governor's Office. This taskforce was created as part of the ongoing work to enforce the Federal Court's Order under Trueblood and can be contacted at truebloodtaskforce@dshs.wa.gov.
Where we are today
There is a mental health crisis in our state. The demand for all forms of mental health services far outweighs what is currently available including competency evaluation and restoration services.
Many of the problems with untimely competency evaluations can be prevented if fewer people with mental illness enter the criminal justice system. When people are able to get the treatment they need when they need it, they are more likely to avoid becoming entwined in the criminal justice system. They are also less likely to place strains on the civil inpatient system. We intend to explore opportunities to provide access to appropriate behavioral health services which are designed to dramatically reduce the number of individuals entering the criminal justice system – enabling the state to meet the constitutional competency evaluation and restoration services timelines.
Data Notes:
1) Count does not include individuals on Personal Recognizance.
2) Includes Non-Competency evaluation orders for ESH.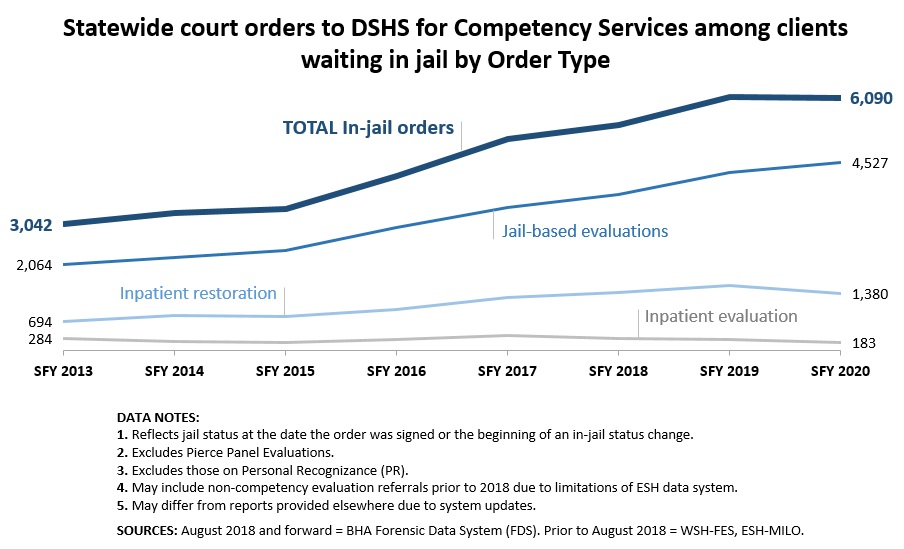 The goal of the Trueblood Taskforce is to craft a bold solution to the problems in Washington State's forensic mental health system. Our current system needs to deliver the right service to the right population, and at the right time. Fixing this necessitates many players and systems working together.  The Trueblood Taskforce would like to see mental health services provided in the community whenever possible and appropriate.  We want the care system to more appropriately assess the level of care needed by a consumer and be able to provide variable levels of care to prevent overuse of the highest and most intensive level of care.  The current care system is disparate and siloed. This presents challenges in establishing continuity and coordination of care and in creating long-term and sustainable solutions.
Task Force Materials
Groundswell Reports
Monthly Progress Report for Court Monitor
2020
2019
2018
2017
2016
2015