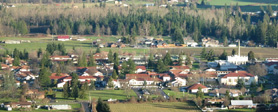 Rainier School is a habilitation center for individuals with intellectual and developmental disabilities located within the city limits of Buckley, Washington about a mile-and-a-half from downtown. The campus is situated in a peaceful country setting with a unique and prominent view of Mount Rainier.
Rainier School's first residents arrived in October 1939 from what is now known as Lakeland Village. Then named Western State Custodial School, Rainier School was the only such facility in Western Washington. Resident population peaked in 1958 at 1,918. The facility was renamed Rainier State School in 1947 and then Rainier School in 1956.
Today, Rainier School serves adults with a wide variety of abilities and needs. 24-hour residential care and teaching is provided in the areas of work or vocational training, leisure activities, social relationships, and everyday life tasks. Programs and services are individualized and designed to enhance self-determination and maximize independence.
The Rainier School community includes:
Medical, dental and nursing care;
Social and psychological services;
Occupational therapy, physical therapy and speech therapy evaluations, treatment and adaptive equipment;
Vocational training and employment in paid jobs on-campus and in local communities, including operating the Rainier Thrift and Gift store located in Buckley, Washington;
Recreation facilities include a gymnasium, a bowling alley and a social center, evening and weekend leisure opportunities, dances and special/holiday events;
Residences are home-like and staffed to promote the care and teaching of daily activities, such as grooming, meals, socialization, shopping and money management, and community experiences;
Nutrition and dietary services, including modified textures and therapeutic diets; and
A beauty/barber shop, coffee shop, chapel services, volunteers, and other life-enhancing supports and opportunities.
Rainier School is an Intermediate Care Facility for Individuals with Intellectual Disabilities (ICF/IID) program certified by the United States Department of Health and Human Services, Centers for Medicare and Medicaid Services. Compliance with the ICF/IID regulations enables the state to obtain federal matching funds for this program. Facilities in this program are subject to regular, rigorous surveys to ensure quality care and treatment.