Washington state's vision of transforming behavioral health includes treating patients in the community and in smaller facilities that better meet their needs. The Clark County community-based facilities located near Vancouver will serve up to 48 patients at a time in three 16-bed facilities located on the same campus. Our commitment is to create safe and secure therapeutic treatment facilities where patients can get the treatment they need, and to be the best neighbors we can in the community.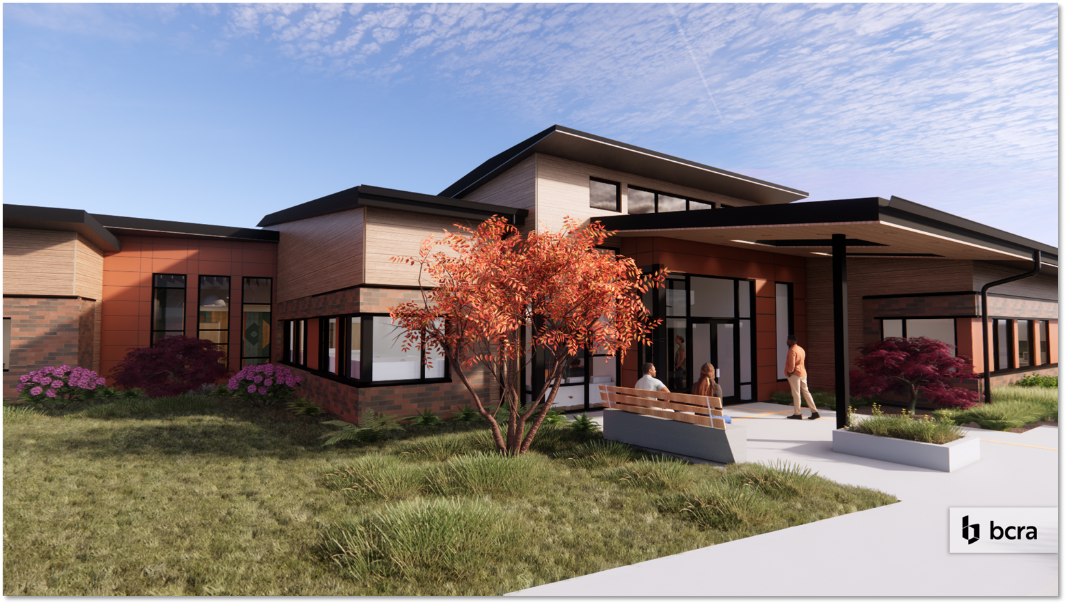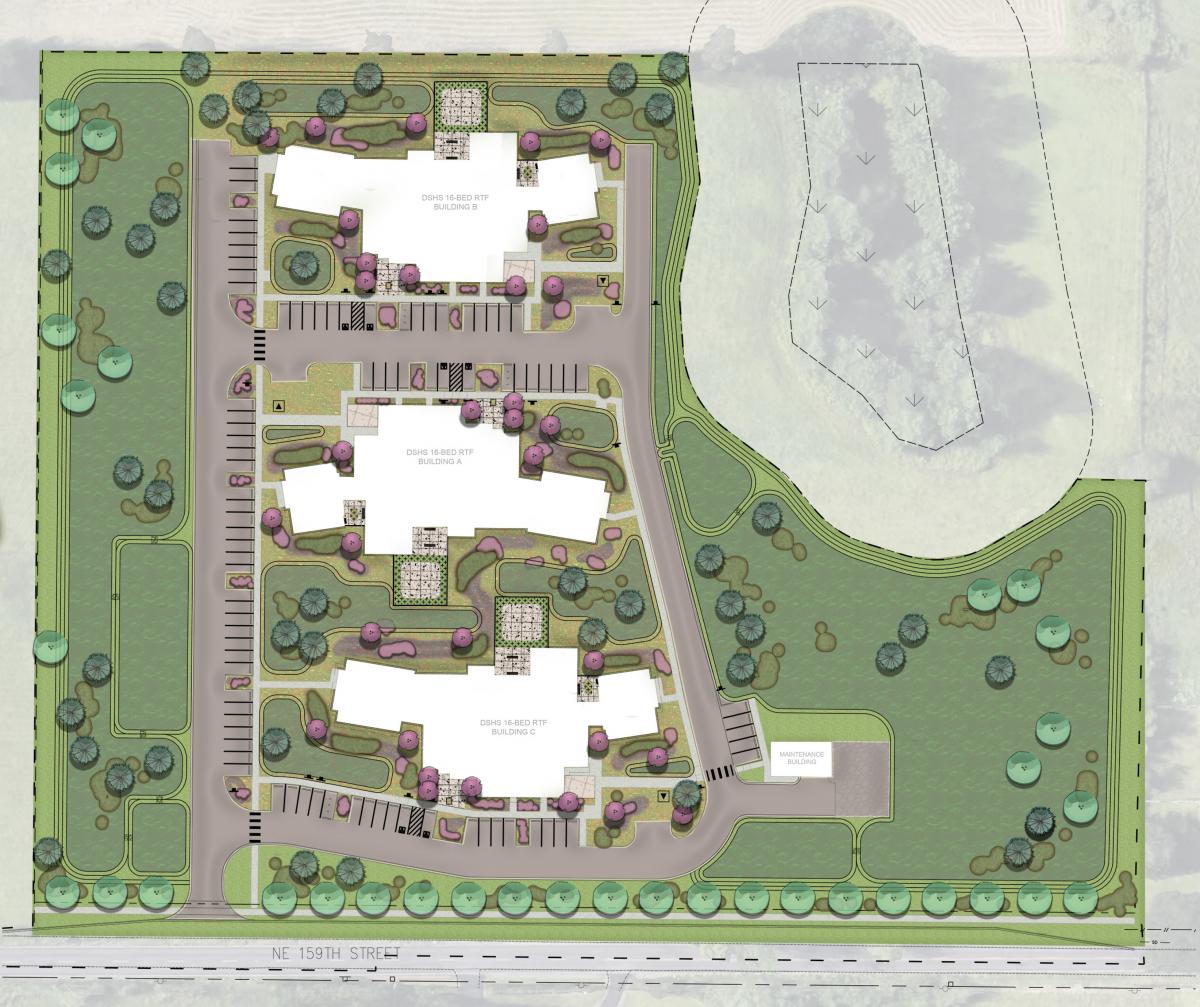 View the DSHS Clark County flyover video.
While the initial direction from the legislature called for the Department of Social and Health Services to operate one of the 16-bed psychiatric facilities and the Health Care Authority to contract the operation of the other two 16-bed facilities, the 2023-2025 budget recently approved by the Washington state Legislature and governor now directs DSHS to operate all three facilities.  In other words, all 48 patients will be cared for by state staff, and DSHS will be the only state agency providing leadership and oversight of the facilities.
Our mission is to treat people in need of inpatient psychiatric care. Our patients are civilly committed for 90 to 180 days, and orders can be extended by the court. Our deeply held value is to provide person-centered care, recognizing the humanity in all of our patients; and we will use this approach in all aspects of patient care.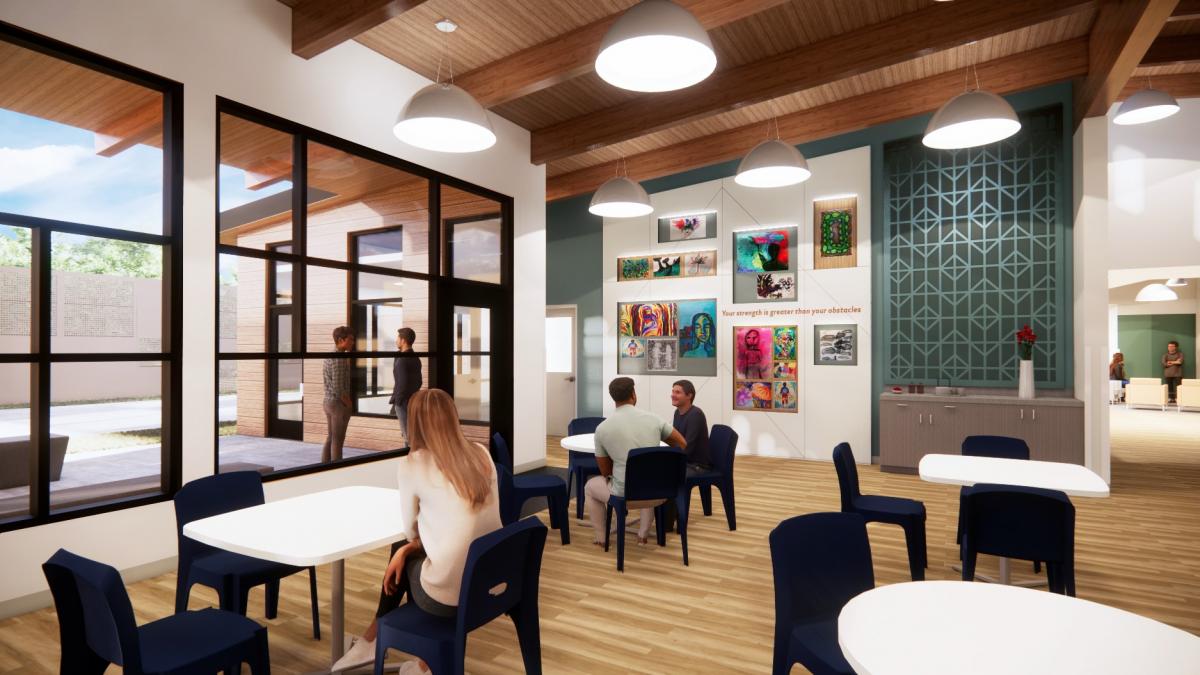 Proposed interior of Clark County facilities.
Clark County patients will remain in a secure setting, and will live in one of the three buildings on campus and within secured, fenced yards for the entirety of their care.  DSHS will run all three 16-bed facilities on campus, which will provide similar types of programming and treatment to all 48 patients.
We will provide services and activities that are respectful to people across all cultures and backgrounds. The services include:
initial intake and evaluation,
medical screening, psychiatric screening, risk screening,
psychological/biological/social evaluation,
treatment.
The goal is to stabilize the illness and improve the person's mental status and behavior. We want them to recover and be able to return to their home or another, less-restrictive living arrangement with appropriate integration into aftercare services.
All patients will receive thorough discharge plans that are individualized with the supports needed to meet their needs in the community. These include wraparound supports like medication management, case management and medical care. Discharged patients will be given a well-coordinated hand off to their next locations.
Our goal is for the Clark County facilities to become a part of the community as a resource, a partner, and a good neighbor.
Entrances and exits will be controlled by staff. The outdoors spaces for the residents will be enclosed by fencing and the buildings. Staff will be trained in de-escalation strategies and emergency management processes to minimize calls to law enforcement and the fire department. The facilities also will have agreements with local law enforcement to provide assistance as needed.
No services will be provided for people who are not living at the facilities. For example, no public restrooms or shelter services will be available. This is a controlled environment with a specific population. Visitors will be limited to friends and family and would be scheduled.
Any trips off-campus by patients will be carefully planned, and will include staff members as escorts; patients will not get passes to go off campus without escorts. Offsite trips might include trips to a local hospital, medical appointments, or housing appointments. 
View the Behavioral health transformation coming to Clark County
Q. Why did DSHS decide this was an appropriate location for behavioral health facilities?
A. The property at 16015 NE 50th Ave. provides DSHS the opportunity to give patients with a mental illness the opportunity to recover in a peaceful and comfortable environment. The property supports recovery by providing views to open spaces, a connection to nature, and facilities that maximize an environment designed to support best clinical practices and provide safe settings for treatment to occur. Like our neighbors, we were drawn to the beauty of the surroundings and the peek-a-boo view of Mount Hood in the distance.
DSHS first learned of this property from a real estate agent in the summer of 2020, after our pre-design study was completed and submitted to the Legislature. Because we were actively pursuing the purchase of a different property at the time, we filed the information away but did not act on this option until negotiations on our initially preferred site fell through. Once we were back in the market for a new property, DSHS performed an internal review of the other properties included in the predesign study as well as this new opportunity at 16015 NE 50th Ave.
Our internal review process determined this property was a better fit for these new facilities to provide behavior health services in Clark County. Our review process for this property found:
The business park zoning provided a more direct pathway for the permitting process. Many of the other sites in the predesign study would have required a rezoning process that could delay the project for more than 12 months.
The site was of sufficient size for the proposed facilities and available within the project's available funding.
An open and serene setting to providing a healing environment for people with a mental health illness.
The location being close to Washington State University-Vancouver's academic programs could create a potential opportunity for partnership.
The Vancouver/Portland area population supports the required range of staffing needs.
Q. Wouldn't it be better somewhere else, especially with schools so close to the site?
A. While it is understandable that the community has concerns about the type of facilities sited near schools, several inpatient behavioral health facilities throughout the state are located near schools. We care deeply about the safety of all of our neighbors, and we are experienced in keeping both our patients and our neighborhoods safe through well-trained staff and secure facilities. At the Clark County facilities, off-campus trips will be rare, patients will be screened prior to leaving the facilities, and trips will be carefully planned to include using staff members as escorts.
In our other BHA facilities, we've found elopements to be extremely rare. In fact, we've established a good relationship with Steilacoom High School, which was built just 100 yards from Western State Hospital.
Q. What is the timeline for this project?
A. We began construction in June 2023.  Construction is estimated to be complete in 2025.
Q. How many patients will you serve in total?
A. The three 16-bed facilities located on the Clark County campus will serve up to 48 patients at a time.
Q. What happens when patients are discharged?
A.  All patients will participate in developing thorough discharge plans that are individualized with the supports required to meet their needs in the community; in fact, discharge planning starts at the time patients are first admitted. Discharge plans include supports like medication management, case management, therapy, housing supports and medical care. Discharged patients will be given well-coordinated handoffs to their next locations and will not be simply discharged into the surrounding neighborhood. The vast majority of patients will discharge to pre-arranged housing locations, typically close to their original county residences.
Q. Tell me more about the patient population.  What does it mean that all of the Clark County patients, although considered civil patients, will be former competency restoration patients?
A. Our competency restoration patients enter the inpatient behavioral health system through the criminal court system.  We recognize that people with mental illnesses are overrepresented in the criminal court system, and that much of this is due to historical factors such as too much deinstitutionalization and a crisis system struggling to meet the needs of those with serious mental illness.  This has led to our current situation in which the door for far too many to gain access to behavioral health treatment is through local law enforcement.  The state recognizes this issue and is making efforts to improve the situation through our Trueblood programs, the 988 crisis line and expansion of crisis services, and creating a transition of civil commitments to local communities, such as the Clark County community-based facilities.
In order for our competency restoration patients to be converted to involuntary civil commitment, they would have previously received competency restoration services, which includes medication stabilization and management, education about the court system, coping and emotional regulation skills, and group treatment. If they are found to be not competent to stand trial and not restorable to that level of competency, the court can order for civil commitment evaluation.
While we will serve people with challenging behaviors, by the time patients transfer to Clark County facilities, they will be well established in their treatment and medication regimens. Additionally, there will be a risk screening tool used for all referrals to the Clark County facilities. People identified as having the most challenging high-risk behaviors will continue to be served at the state hospital. In Clark County, we will continue patients' behavioral health treatments until issues with dangerousness to self or others and/or grave disability have resolved or can be mitigated with the appropriate discharge supports and services in the community.
Historically people who experience mental illnesses are more likely to be victims of crimes than to perpetrate them. For those people who do have challenging safety behaviors, receiving this inpatient psychiatric care is critical to stabilizing these behaviors and increasing community safety.
Q. How will these facilities keep our community safe?
A. All patients will reside and receive treatment within a secure facility, except for rare exceptions when staff may escort them to a medical appointment in the community or discharge planning related outings. The safety and security features of these facilities include the following features:
All entry and exit points are secured by a combination of an electronic card reader and a physical key. Entrances and exits will be controlled by staff.
Outdoor time and recreational activities are scheduled within the secured and fenced courtyard enclosed by a no-climb fence.
No patient will have access outside the facilities except for scheduled appointments. Two staff members will escort each patient on all outside appointments. Offsite trips might include trips to a hospital, medical appointments, or housing appointments.    
Video cameras and sufficient staffing will ensure that patients are monitored and accounted for throughout the day and evening.
The buildings will not be accessible to the general public. Visitors may include family and friends of the patients during scheduled visitation hours if those visits aid in recovery. The visits will only occur within areas of the building supervised by staff.
Policies, procedures, and staff training will be in place to ensure all safety measures are followed and all staff are held accountable for their actions.
We have located our new facilities on the easterly half of the site to reduce visibility from the iTech Preparatory School.
Staff will be trained in de-escalation strategies and emergency management processes to minimize calls to law enforcement and the fire department.
Q. Why site these facilities without access to public transportation as recommended in the predesign study?
A. The predesign study identified public transportation as a site amenity that should be considered for the convenience of staff and visitors. Ready access to public transportation is not a requirement to open and operate these facilities. Even if available, patients would never arrive at or depart the site via public transportation.
Q. How will this impact traffic?
A. Compared to the previous activities on this site, there will be additional traffic in the neighborhood.  Because the county has zoned this property as a business park, any development of the site would surely bring in additional traffic.
These three facilities combined will employ approximately 150 staff. Staff schedules cover three separate shifts, with a typical 8 a.m. to 5 p.m. shift being the largest. Other than at shift change, additional traffic due to deliveries and visits will likely be disbursed throughout the day. We acknowledge the desire to spread out traffic congestion through the heaviest commuter times.
The road will be widened in order to add a west bound turn lane, curb and gutter. This widening will include a subgrade culvert at the north side of the road connecting the drainage ditches that parallel the roadway. These improvements also include the addition of a sidewalk and planting strip with street trees along the south edge of the property.  The turn lane will provide an additional opportunity for staff to access the site safely.  Center lane striping will also be added to the road. All of these improvements support the use of the property. 
Q. How will the construction of these facilities impact the environment?
A. DSHS conducted a thorough assessment of environmental impacts through the State Environmental Policy Act process, and found that no significant environmental impacts are expected.  The SEPA process included a preliminary storm water design report, water and sewer service reviews, a wetlands review, and more; all of the SEPA documents can be found at this site.