Forensic navigators help guide, support and advocate for their clients as they undergo competency evaluations, competency restoration treatment and transitions to the community. Forensic navigators serve as officers of the courts, interim case managers, and community liaisons who assist clients while they are involved with the criminal court system. They also offer coordinated transitions and warm handoffs to appropriate resources.
The Forensic Navigator Program launched on July 1, 2020, as part of the effort to transform how people with mental illness are treated within the criminal court system. The program supports the governor's emphasis on community mental health by diverting forensically involved criminal defendants away from jails and inpatient treatment settings, and into community-based treatment settings.
Forensic navigators are assigned clients who receive court orders for competency evaluations. Their support starts with making connections to resources while clients are in jail. If clients are deemed competent, forensic navigator services end. For those who are determined not competent to stand trial and are ordered into outpatient competency restoration, forensic navigators continue and work with other Trueblood programs until they provide warm handoffs to community resources.
In general, forensic navigators work with clients to ensure that they comply with their conditions of release, attend outpatient competency restoration classes, and adhere to prescribed medications. Navigators also connect clients to additional supportive services in the community, such as housing, mental health and substance use treatment, supported employment services, and community-based case management services.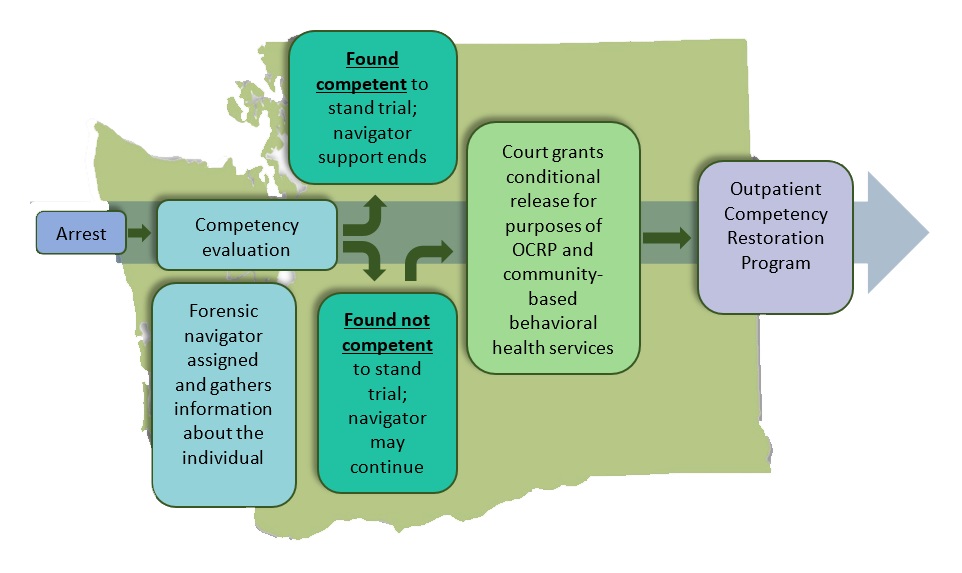 Forensic navigator services are offered in the 10 Washington counties that comprise Phase 1 of the Trueblood Contempt Settlement Agreement. The services are scheduled to expand to King County in Phase 2, which begins on July 1, 2021. Phase 3, which may include additional counties, begins July 1, 2023.
Partnerships
Courts
Forensic navigators assist attorneys and the court in understanding the client's treatment options. Forensic navigators are officers of the court and advise the court on whether a defendant is suitable for outpatient competency restoration. Navigators meet regularly with participants, and provide progress updates to the court.
While there are no qualifying or disqualifying charges, the Forensic Navigator Program is designed for people who are not competent to stand trial and determined to be suitable for community-based treatment and support. Forensic navigators use a screening process to ensure that services are only offered to people who are suitable for receiving community-based treatment.
Washington State Health Care Authority
The Washington State Health Care Authority supports DSHS by managing programs to help clients find housing and connect with peers with lived experience. HCA oversees three programs that work closely with forensic navigators: Outpatient Competency Restoration Program, Forensic Housing and Recovery through Peer Services, and Forensic Projects for Assistance in Transition from Homelessness. This graphic shows how the programs work in concert with one another.
Outpatient Competency Restoration Program
If a judge determines that a person does not understand their charges or the court process, and/or lacks the ability to assist in their trial defense because of a mental illness, the judge could order the person to competency restoration treatment. Competency restoration treatment may be completed at a state hospital, a residential treatment facility licensed for restoration treatment, or an Outpatient Competency Restoration Program (contracted by HCA).
OCRP moves people from local jails or institutional treatment facilities into community-based services. It is meant for people who are not considered a security risk and are likely to adhere to treatment in the community.
If a client is ordered to undergo outpatient competency restoration services, a forensic navigator works with the client to provide services including:
Assisting the client with attending appointments and classes relating to outpatient competency restoration
Coordinating access to housing;
Meeting with the client on a regular basis;
Providing information to the court concerning the client's progress and compliance with conditions of release, which may include appearing at court hearings;
Coordinating the client's access to community case management services and mental health services;
Assisting the client with obtaining prescribed medication and encouraging adherence with prescribed medication;
Planning for a coordinated transition to a case manager in the community behavioral health system;
Following up with the client to check whether a meeting with a community-based case manager took place;
Attempting to connect eligible clients to services within in the Forensic Projects for Assistance in Transition from Homelessness program
Checking up on the client at least once a month for up to 60 days after coordinated transition to community behavioral health services, without duplicating the services of the community-based case manager
FHARPS and FPATH
FPATH and FHARPS teams within community behavioral health agencies include certified peer counselors who work with people experiencing homelessness. Certified peer counselors have lived experience with behavioral health recovery and are required to complete continuing education training as part of the Enhanced Peer Services Program. These counselors build relationships with clients and help connect them with supports including housing, transportation and health care services.
For clients who are homeless or unstably housed, forensic navigators work with the FHARPS program to help secure housing.
To be eligible for FPATH services, clients must have two or more orders for competency evaluation in the past two years. Whenever an FPATH-eligible person is referred for competency evaluation, forensic navigators will work to connect these clients with FPATH services.
Related resources and legislation
For questions about the Forensic Navigator Program, contact Program Administrator Solomon Wyatt at solomon.wyatt@dshs.wa.gov.