DVR State Plan Public Forum
The Division of Vocational Rehabilitation (DVR) and the Washington State Rehabilitation Council (WSRC) invite the public to comment on the 2022 update to DVR's State Plan by attending a virtual Public Forum from 1:30-3:00 PM on Thursday, Feb. 10, 2022.
Please visit the DVR 2020-2023 State Plan Update Draft to view the updated content.
To learn more about how to participate and provide comments during the Public Forum held on Zoom, please click on the visual of the State Plan Public Forum flyer below:
DVR Public Forum                              State Plan Update
DVR State Plan and WIOA
The DVR State Plan describes our goals, priorities, partnerships, services, and activities. Our 2020-2023 State Plan was approved by the Commissioner of the Rehabilitation Services Administration and the Secretaries of Education and Labor, effective July 1, 2020 through June 30, 2023.
DVR's State Plan is a living document, as we strive to continuously improve our services to Washingtonians living with disabilities. A new plan is prepared every four years and updated at the two-year midpoint. The most recent update was effective July 1, 2020.
With the passing of the Workforce Innovation and Opportunity Act (WIOA), the State Plan is required for federal funding and is part of Washington's Combined State Plan for workforce development, Talent and Prosperity for All. The Combined State Plan is available online by visiting the Workforce Training and Education Coordinating Board.
WIOA and Washington's Combined State Plan are designed to help individuals with disabilities access the employment, education, training, and support services necessary to achieve success in the workforce.  In addition, WIOA and our State Plan target enhanced business engagement, connecting businesses with skilled workers to close skill gaps in key industry sectors throughout the state.
The current State Plan that DVR operates under is the 2020 – 2023 State Plan that can be accessed through this link: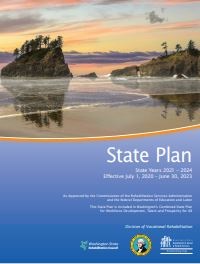 (Effective July 1, 2020)
Public Participation in the State Plan
DVR and the Washington State Rehabilitation Council work closely with our customers, stakeholders, workforce development partners, and Washington's business community to develop our State Plan. DVR and WSRC sincerely thank our customers, partners, staff, and stakeholders for their engagement in public comment, statewide public forums, and planning teams. Your contributions have led to meaningful improvements to our State Plan and implementation of Order of Selection. Together, we are building a more diverse, accessible, and prosperous Washington.
The State Plan is based on results of the Comprehensive Statewide Needs Assessment - CSNA. Learn more about the CSNA on our Data, Assessments, and Reports page.
Please contact DVRStatePlan@dshs.wa.gov with questions, comments, or requests.
Please note: This version of the DVR State Plan has been reformatted to improve accessibility, readability, and navigation. However, all content officially approved by the Rehabilitation Services Administration and the Departments of Education and Labor remain, in full, in this reformatted version