DVR conducts analyses and assessments to better understand the experiences and service needs of our customers, with a focus on what customers need to be successful in the workplace. Information and insights gained are used to develop DVR's State Plan, which describes our strategic goals, priorities, partnerships, and services.
Comprehensive Statewide Needs Assessment (CSNA)
The Comprehensive Statewide Needs Assessment (CSNA) is a study of the vocational rehabilitation needs of individuals with disabilities statewide. The CSNA assesses demographic and economic data; needs of youth and people with the most significant disabilities; underserved populations, including racial and ethnic minorities; and service system factors. The Assessment informs the goals and priorities of DVR's State Plan and the Division's understanding of its customers and their service needs. DVR and the Washington State Rehabilitation Council (WSRC) undertake the CSNA jointly and work together to engage partners, customers, and stakeholders in the project.
DVR adds assessments and reports to this site regularly. Readers are encouraged to check back for updates as new information becomes available. Please contact DVRStatePlan@dshs.wa.gov with questions and comments.
2019 CSNA
2019 Comprehensive Statewide Needs Assessment

Report Topics:                   

Disability and DVR Services Data
Supported Employment
Unserved and Underserved Populations
Students and Youth
Workforce Development System
Community Rehabilitation Programs
Assessment of the VR Service Needs of Students and Youth with Disabilities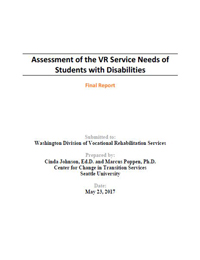 Assessment of the VR Service Needs of Students and Youth with Disabilities
Report Topics:
Pre-employment Transition Services under WIOA

Comparisons of special education transition services and Pre-employment Transition Services using the Quality Indicators for Secondary Transition (QuIST)

Estimates of the numbers of students with disabilities statewide, by region, and by school district
Pre Employment Transition Services
DVR Customer Profile and Service Needs
DVR Customer Service Needs 2018