Latest Developments
Since April 2015, we've had significant success in reducing the time it takes to provide competency services for class members through implementing the following changes: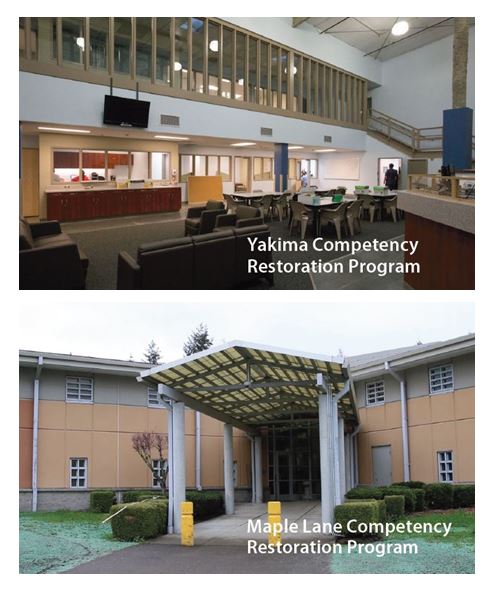 Adding 96 new beds between the two state hospitals and two alternate site facilities (65 percent increase). Twelve of these beds opened one year earlier than planned

Hiring 13 additional forensic evaluators (45 percent increase)

Creating a new Office of Forensic Mental Health Services

Opening two alternate facilities to provide restoration services – one on the west side of the state in Centralia – The Maple Lane Competency Restoration Program, and one on the east side of the state in Yakima – The Yakima Competency Restoration Program

Establishing four outstation locations to conduct more timely competency evaluations

Piloting a shared calendar system with King County to ensure evaluation services are scheduled in a timely manner

Establishing pilot diversion programs to test innovative approaches using community supports to divert patients from the criminal justice system

Implementing uniform court orders for hospital admissions
As a result of these successes, wait times for class members have improved.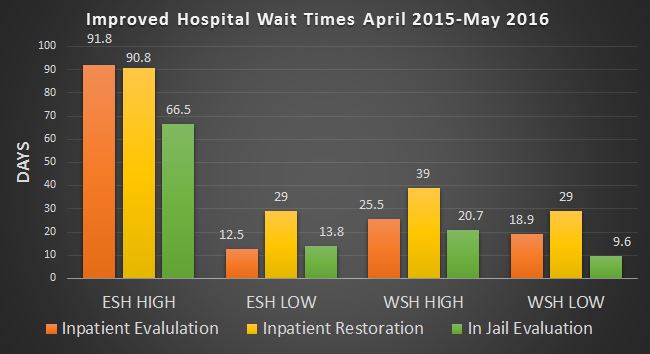 Wait times for inpatient evaluations went from a high of 91.8 days to 12.5 days at Eastern State Hospital and from 25.5 to 18.9 days at Western State Hospital

Wait times for inpatient restoration services dropped from a high of 90.8 days to 29 days at ESH and from 39 days to 29 days at WSH

Wait times for in-jail evaluations went from 66.5 days to 13.8 days at ESH and from 20.7 to 9.6 days at WSH
Check back soon for new news!
Background on the lawsuit
It is the right of all criminal defendants to assist in their own defense. If their ability to understand the legal proceedings is questionable or if they show an inability to assist in their own defense, the courts are required to suspend the criminal trial and call for a competency evaluation by the Department of Social and Health Services.
To prevent the prosecution of mentally incompetent defendants, those found to be incompetent to stand trial after evaluation are ordered by the courts to receive mental health treatment to restore competency.  If the evaluation finds the defendant competent, he or she is returned to stand trial.
In late 2014, a lawsuit was filed against DSHS claiming that the state was taking too long to get criminal defendants evaluated and into restoration treatment.  After attempts by DSHS to negotiate a settlement were rejected, the case was finally heard in U.S. District Court. On April 2, 2015 a federal court ruled in the case, finding in favor of the plaintiffs and requiring that the state provide competency evaluations and restorations within seven days. The Court also ordered that a court monitor oversee the Department's efforts to comply with the court's orders and provide monthly reports to the assigned monitor, documenting the state's progress.  A plan, documenting the state's long-term strategy to comply with the new seven-day standard is due to the Court by July 2, 2015. The state is to be in full compliance with the order by January 2, 2016.
Monthly Progress Report for Court Monitor
2017
2016
2015