The ACT program provides expertise to DSHS agencies to ensure clients who are hard of hearing with communication strategies and accessibility needs. The ACT program serves as a liaison for the hard of hearing community and provides technical assistance to the Department of Social and Health Services (DSHS) and other State agencies to ensure that individuals who are hard of hearing have equal access opportunities to government programs, services and activities. The ACT program provides appropriate auxiliary aids to promote effective communication.
In Washington State there are more than 500,000 people that have a hearing loss; this includes senior citizens, late deafened, State employees and veterans.  Some of these people may not be aware of the available technology that can assist them in hearing better in meetings, discussions or events.
The Washington State Office of the Deaf and Hard of Hearing (ODHH) loans ACT equipment to various State agencies, Community Service Offices (CSO) and community organizations statewide as needed to ensure communication access for clients and community members with a hearing loss.
If you or your clients have a hearing aid or a cochlear implant with a t-coil switch, the equipment below will help amplify the verbal communication and ensure you have a comfortable communication with whomever you're speaking with.
ACT Equipment Available:
ACT equipment is also known as Assistive Listening Systems (ALS) which creates a direct, wireless connection between a source of sound and one or more listeners. This eliminates the effects of distance between the source of sound and the listener; such as background noise and reverberation (poor acoustics). Using ACT equipment, you should be able to hear as clearly as if you were standing right next to the source of the sound, even if you are actually sitting in the back of a large and noisy room.
The devices transmit sound directly to the listener's hearing aid or cochlear implant sound processor. However, some types of ACT equipment can be used even if the listener does not have a compatible hearing aid or cochlear implant.
There are three types of ACT equipment: induction loop, FM, and infrared. None of these systems is inherently superior to the others; each has advantages and disadvantages.
Current equipment is available through ODHH or one of the Regional Service Centers that ODHH contracts with to serve the community.
---
Portable Loop Systems
The Oval Window Portable Info Loop is a self-contained, one-on-one induction loop assistive listening system compatible with all t-coil hearing aids, cochlear implants and induction loop receivers. It is ideal for 1:1 applications such as customer service counters, information booths, meetings, vehicles and personal use. The lightweight unit includes a built-in amplifier, external microphone and induction aerial loop within the housing.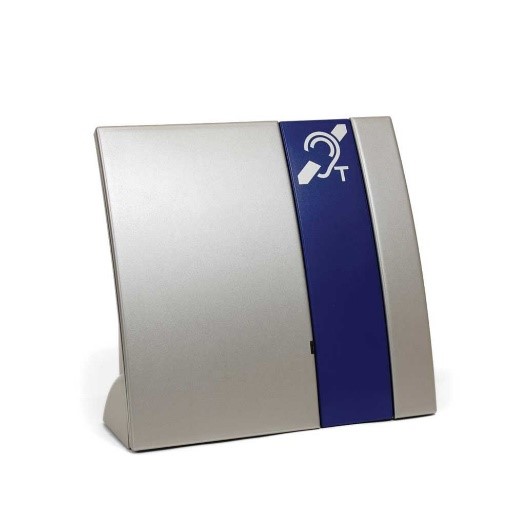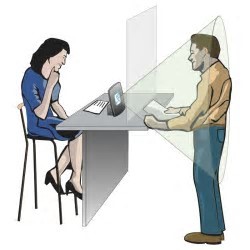 ---
Counter Loops
Counter Loop systems provides assistance for clear communication with hearing aid or cochlear implant users where high background noise is a problem or clear speech is restricted, particularly at counters, booths, desks and similar locations.
Both the under counter and over counter systems can be installed into many positions. The under counter option has a flexible aerial that can be bent to shape and the over counter option features an aerial built into a low profile sign.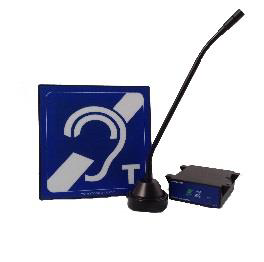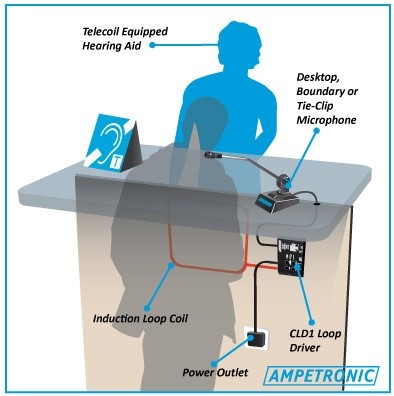 ---
Temporary Loop Systems
Portable Room Loop kits (PRLK) and Permanent Induction Loop systems are designed for large meeting rooms up to 300 seats.  These systems are compatible for people who have hearing aids with a t-coil switch or a cochlear implant.  People who do not have a hearing aid can elect to use a receiver connected to headphones or earphones.  ODHH has one Induction Loop system installed at the ALTSA Blake West facility that can be used for large meeting rooms like the sample below.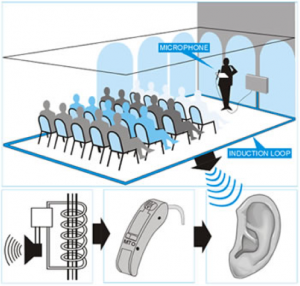 We also have a Portable Room Loop Kit that can be installed in smaller meetings or conferences to provide people with a hearing loss that wear hearing aids or cochlear implants with a t-coil switch to amplify audio sounds in the room for better hearing.  Individuals who do not wear hearing aids and have a medium to mild hearing loss can wear headphones with a receiver and receive good audio amplification.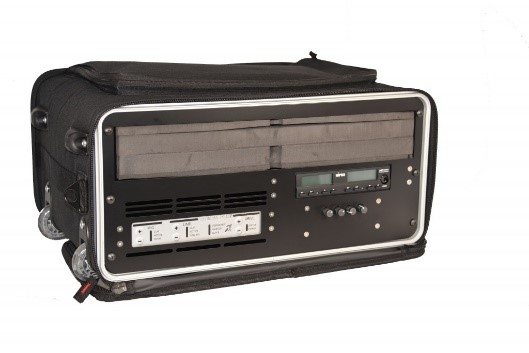 ---
FM Receiver/Transmitter Kits
 This is a kit with up to 10 receivers, a transmitter and a microphone.  This is good for small meetings and 1:1 discussions.  These kits are compatible with hearing aids and cochlear implants that have the t-coil switch.  The receivers can also be used with earbuds or headphones for people who do not have hearing aids with a t-coil switch.  The challenge for people without hearing aids is that the earphone connected to receivers may not amplify the sound enough to hear as well as a person with hearing aids with a t-coil switch or cochlear implants.  Everyone has a different hearing loss so it depends on the person and his/her hearing loss.  ODHH has two of these type of kits that are available to borrowed for employees or clients who have a hearing loss.  We encourage you to use them as needed but they are subject to availability.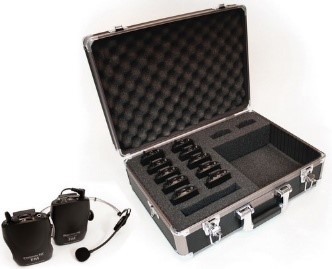 Personal PA systems
Personal PA systems are good for 1:1 conversations between an employee or client.  For example, this would be ideal for senior citizens who may or may not have a hearing aid or cochlear implant to have a 1:1 discussion with their case managers.  This kit includes a receiver, a transmitter, microphone and earphones or headphones.  Some of these kits have been given to Home Community Services & Residential Care Services staff who work with the Home Community Services and Residential care clients.  We don't know how much they are being used presently but would like to visit some of the facilities where they are being used and determine if these products are being successfully used with clients and whether or not clients are satisfied with the ability to hear better during their 1:1 discussions with the caregiver or case manager.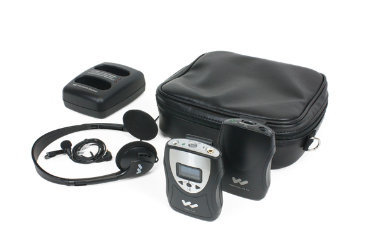 ---
How and Where to Borrow Assistive Communication Technology
ODHH has ACT equipment available for loan to State and local government agencies for the purpose of providing access for Washington residents with hearing loss. ODHH oversees the inventory of ACT equipment at the ALTSA headquarters in Lacey and within 6 Regional Service Centers of the Deaf and Hard of Hearing throughout the state. ODHH also provides consultation to state and local government agencies to assist them in choosing the equipment that best meets their needs and the needs of the individual(s) with hearing loss.
Government agencies, community organizations, and non-profit may contact one of the six Regional Service Centers directly to borrow Assistive Communication Technology.
State Government agencies requesting temporary Loop system installations for meeting rooms or conferences may request temporary or permanent induction loop system installation by going to the following online link: https://fortress.wa.gov/dshs/odhhapps/Service/ACTWorkOrder.aspx.  Please provide sufficient information such as room size, number of chairs, date, time, location and number of people requesting reasonable accommodation.  Note: All induction Loop System requests require 30 days advance notice to allow vendors and regional service centers sufficient time to prepare for the induction loop system installation.  Agencies wishing to install a permanent Loop system within their offices will require to work with a professional Loop system installer and may take longer than 30 days depending on the size of the room and equipment that will be installed. 
If you have questions or concerns, please contact Steve Peck at email: steven.peck@dshs.wa.gov or via phone at 360-339-7762. 
For more information, you can read the ACT FAQ.  
---
Visibility of Loop Systems at Receptionist Desks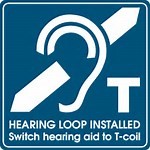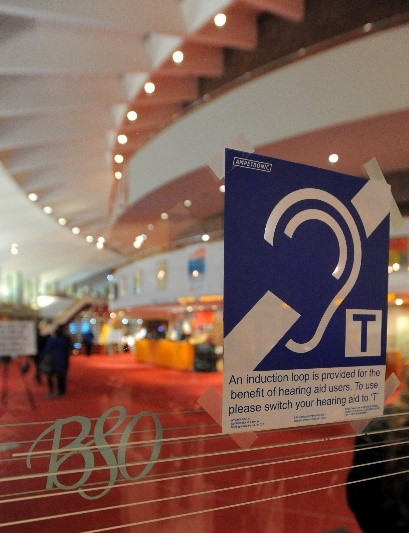 This signage should always be visible at the receptionist desk and should be installed vertically on the window or on a stand so people with a hearing loss can see that the loop system is available at the counter. The hearing loop signage should not be installed flat on the counter because it's difficult to see from a distance, hence the encouragement to ensure that the signage is always visible to clients and employees. See above pictures to indicate how the Hearing Loop signage should be posted.