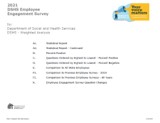 The 2021 survey was conducted from November 1, 2021 through December 17, 2021. The results show a moderate decrease in employee engagement since the last major survey, which was completed just before the start of the COVID-19 pandemic in the U.S. Compared to 2019, there were statistically significant declines in positive responses to eight of the 20 items included in both surveys and only two statistically significant increases. The 2021 survey was conducted a month later than usual, and just after the implementation of a vaccine mandate for the entire state workforce. The response rate in 2021 was 67%.
Release of the comprehensive survey report is anticipated in late May, 2022. The report will be posted to this site. In the meantime, a statistical report showing DSHS-wide results can be found at the link below. Statistical reports have also been distributed to Administrations and major units, and will be the subject of action planning at every level of DSHS.
The Employee Engagement Survey is an important component of Governor Inslee's Results Washington initiative for performance management and continuous improvement. Survey results are used as the primary outcome measure for the goal to "Increase Washington as an employer of choice" under Goal 5: Effective, efficient and accountable government.
Report and/or Additional Information: