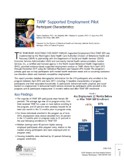 This report describes 219 participants who enrolled in the Temporary Assistance for Needy Families Supported Employment Pilot (TANF SEP) between April 2015 and June 2017. The TANF SEP program used the Individual Placement and Support (IPS) model of supported employment services to help TANF clients with mental health and co-occurring substance abuse disorders obtain and maintain competitive employment. Individuals were eligible for participation in the pilot if they were unemployed and receiving TANF, met access to care standards for mental health treatment, expressed an interest in being employed, and lived in Skagit or Snohomish counties.
TANF SEP participants faced a variety of barriers to employment, including housing instability, poor employment history, behavioral health treatment needs, other chronic health conditions, criminal justice system involvement, and childcare needs. Despite these challenges, employment rates almost doubled for program participants who enrolled in the program by June 2016 between the pre- and post-periods, and housing instability rates decreased by 22 percent.
The report has two key limitations: (1) it is based on a small subset of TANF recipients in a restricted geographic area, so it may not be generalizable to Washington's broader TANF population; and (2) the analysis did not use a comparison group necessary to assess the net effects of the program. It is unclear if the changes in observed outcomes in employment are due to participation in the program or other factors, such as participant motivation.
Report and/or Additional Information:
Categories: