In January 2016, our state released the first State Plan to Address Alzheimer's Disease and Other Dementias that contains goals, strategies, and recommendations as a blueprint for action.  The Dementia Action Collaborative (DAC) has led the implementation of the 2016 State Plan and over the past year has been updating this plan. The updated 2023-2028 State Plan will be posted on or around Oct 1st.   
The Dementia Action Collaborative (DAC), started in 2016, is a group of public and private partners committed to preparing Washington state for the growth of the population living with dementia. 
Upcoming Meeting:
The DAC will have its next full group meeting on September 28, 2023 (location and time to be determined). We welcome members of the public at our meetings. 
If you want receive upcoming DAC meeting notices, please email dacpublic@dhs.wa.gov to request to be added to the DAC Stakeholder List.
---
Read the DAC Informational Sheet or the DAC Progress Report 2022 to learn more information.
---
Resources for Individuals, Families, and Community Organizations
Resources & Tools for Health Care Providers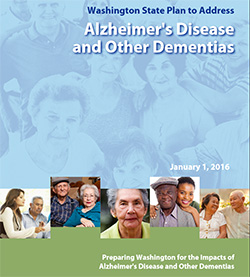 "Let's Talk Dementia" Mini-Videos
Six brief videos featuring Washingtonians with dementia and their care partners, talking about the value of early diagnosis and what they suggest for living well with dementia.
Dementia-Friendly Resources
Alzheimer's State Plan/Dementia Action Collaborative Documents