Announcements
Do you have a family member living in a Memory Care setting? Are you currently looking for a Memory Care setting for a family member?
Washington state's Dementia Action Collaborative (DAC) wants to understand the expectations and experiences of family members of people living with dementia who are seeking, using, or who have used assisted living settings in Washington State that advertise as "Memory Care". Learn more and participate in an online survey.
---
Established in 2016, the Dementia Action Collaborative (DAC) is a group of public-private partners committed to preparing Washington state for the growth of the population living with dementia. The DAC hosts two meetings each year that are open to the public. This year's meetings will be April 22, 2021 (1pm - 4:30pm) and September 29, 2021 (9am - 12:30pm). Learn more about the DAC.
Resources for Individuals, Families, and Community Organizations
Resources & Tools for Providers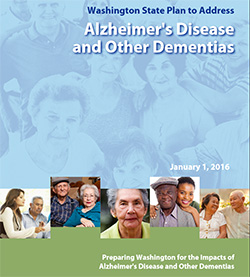 "Let's Talk Dementia" Mini-Videos
Six brief videos featuring Washingtonians with dementia and their care partners, talking about the value of early diagnosis and what they suggest for living well with dementia.
Dementia-Friendly Resources
Alzheimer's State Plan/Dementia Action Collaborative Documents