Established in 2016, the Dementia Action Collaborative (DAC) is a group of public-private partners committed to preparing Washington state for the growth of the population living with dementia. The DAC hosts two meetings each year that are open to the public. This year's meetings will be May 2, 2022 ( 9 – 12:30) and September TBD, 2022 (9am - 12:30pm). Learn more about the DAC.
Resources for Individuals, Families, and Community Organizations
Resources & Tools for Providers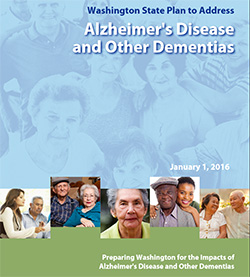 "Let's Talk Dementia" Mini-Videos
Six brief videos featuring Washingtonians with dementia and their care partners, talking about the value of early diagnosis and what they suggest for living well with dementia.
Dementia-Friendly Resources
Alzheimer's State Plan/Dementia Action Collaborative Documents