Image Description: Three rows of black dots in different sizes divided with two vertical lines making three columns. On the bottom black text, "-D-B-S-."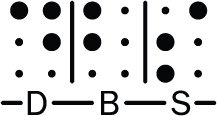 Dial 7-1-1 or 1-800-833-6385
DeafBlind Service (DBS) allows people with combined hearing and vision loss to place and receive telephone calls. DBS users type their messages and read the other person's responses, typed by the WATRS Communication Assistant (CA) on a braille display.
Placing DBS Calls
Using your specialized equipment, dial 711 or the toll-free number for your state.
The WATRS CA will answer by identifying Relay and typing "NUMBER TO CALL PLS Q GA."
Provide the area code and telephone number you want to call, as well as any additional instructions.
Once the call is connected, the WATRS CA will type everything said by the other party word for word, along with any background noises.
When you read "GA," it is your turn to respond. Type your message and add "GA" when you are ready for a response. The conversation will proceed in this manner until the call is complete.
When you have completed your side of the conversation, type "GA to SK" to close your call.
Helpful Tips
Establish a Customer Profile to store helpful information about your calls. This will allow the WATRS CA to process your calls more efficiently.
DBS user can also connect to WATRS via RTT/TTY mode on your cell phone by turning on RTT/TTY in the accessibility menu.  Instructions to set up RTT/TTY mode on your cell phone:

Go to Settings
Select Accessibility Menu
Select Software RTT/TTY and turn on.  In the status bar at the top of your screen, you should see the TTY icon. 
To connect to WATRS, dial 711 or DBS toll-free number.
Provide WATRS CA with the number to call
WATRS CA will process your call to the called party.
In Send immediately box, you can select to send text as you type or turn off send immediately to send text when you are completed.
Answer All Calls as RTT/TTY.  Turn this on if you wish to have your incoming calls answered as a TTY mode call.   This means friends and family members with RTT/TTY turned on or a TTY can call you directly on your cell phone.  
Hardware TTY.  This allows you to connect to an external TTY device to make and receive TTY calls.  When both software and hardware TTY options are enabled, incoming calls will default to hardware TTY, if connected.
When RTT/TTY mode is set, dial 711 or the WATRS toll free number, the WATRS CA will ask for a number to call.