ABAWD Work Requirements in Washington State
Welcome to the DSHS ABAWD Work Requirements site. This page outlines general information regarding Washington's work requirements including information for individuals identified as ABAWDS and what the participation requirements are in order to maintain eligibility for Basic Food Assistance (BFA).  Important information is outlined as follows:
Federal Work Requirements
Who is an ABAWD?
What are the ABAWD requirements?
What areas in Washington State must meet these requirements?
Can individuals be exempted from this requirement?
What do I do if my Basic Food ends because of the ABAWD rules?
Current ABAWD Focused Events
Federal Work Requirements
Federal regulations require certain individuals receiving BFA to meet work requirements in order to continue receiving benefits. These requirements affect individuals identified as ABAWDs (Able Bodied Adults without Dependents). In Washington, ABAWDs living in non-exempt counties must work or participate in work related activities if they are not working or have approved exemptions.
Who is an ABAWD?
As outlined in WAC 388-444-0030, ABAWDs are a subpopulation of Work Registrants who:
Are ages 18 through 50 between September 1st through September 30th, 2023 and 52 beginning October 1st, 2023;
Able to work and have no physical or mental disabilities, injuries, or health issues that prevent them from working;
Are not receiving any food benefits for minor children in their household; or
Not reporting any exemptions and not identified as an exempt work registrant (more information under exemptions below).
What are the ABAWD requirements?
If you are an ABAWD living in a non-exempt area (see map below), you will only receive 3 months of Basic Food benefits unless you do one or more of the following:
Work at least 20 hours per week averaged monthly (80 hours per month);
Volunteer in the community through Workfare monthly. The number of volunteer hours is determined based on the benefit amount divided by state or local city minimum wage; or
Participate in state approved employment or training programs. Please see a list of approved programs. This page will be updated as new programs are added. For more information, please click here to see the list of approved programs. 
What areas in Washington are required to participate?
Effective July 1, 2023 non-exempt ABAWDs residing in the counties of King and Snohomish (with the exception of those residing on the the Muckleshoot, and Tulalip Reservations) will be subject to the time limit rules.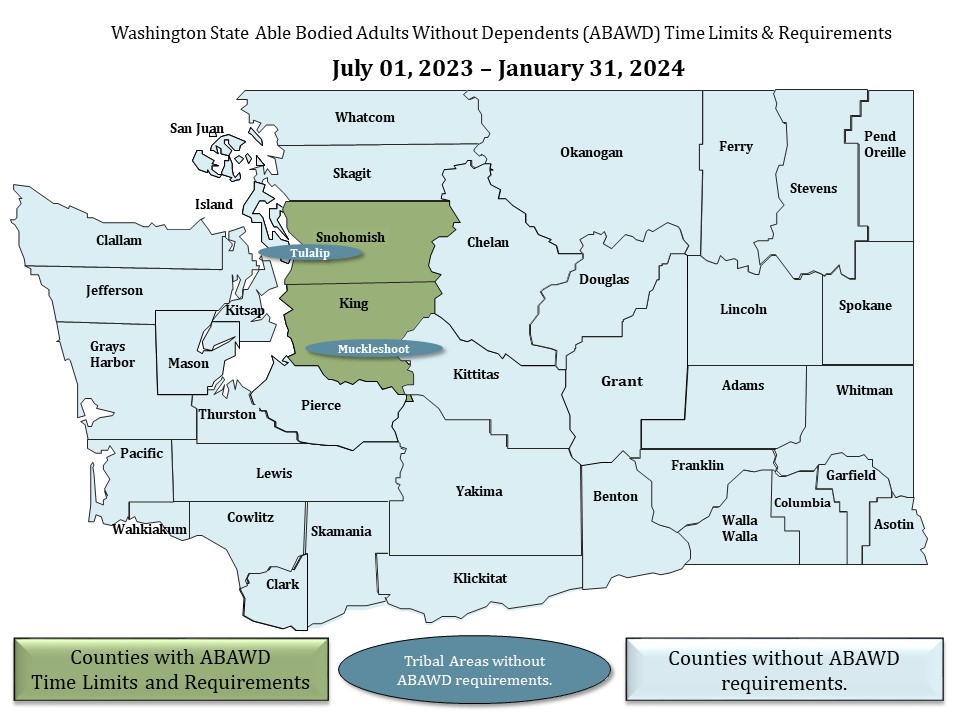 Can individuals be exempted from this requirement?
Some people on Basic Food are exempt from ABAWD work requirements. The exemption rules can be found in WAC 388-444-0035 and 388-444-0010. In general, you are exempt from the ABAWD requirements if you are:
Living in an exempt area;
Under eighteen;
Aged 51 or older beginning September 1st 2023, and aged 53 or older beginning October 1st, 2023;
A veteran who served in the United States Armed Forces or Reserves (Army, Marine Corps, Navy, Air Force, Space Force, Coast Guard, and National Guard) regardless of discharge status.
Homeless;
Previously in foster care on your 18th birthday and are 24 years or younger;
Determined to be physically or mentally unable to work;

Unable to work at least twenty hours a week on average
Receiving L&I, Veterans, or private disability insurance

Caring for a person who is incapacitated;
Receiving food benefits in the same assistance unit as a minor child;
Applying for or receiving unemployment benefits;
A student* in school at least half time;
Participating in a chemical dependency treatment and rehabilitation program; or
*A student enrolled in higher education must meet the requirements under WAC 388-482-0005 in order to be eligible for Basic Food.
For further questions regarding ABAWD Requirements, BFET, or Workfare
For information regarding the ABAWD and Work Requirements Policy in Washington State please contact ABAWD@dshs.wa.gov;
Visit your local Community Services Office; or
Contact the Customer Contact Service Center at 1-877-501-2233