ABAWD Work Requirements in Washington State.
Welcome to the DSHS ABAWD Work Requirements site. This page outlines general information regarding Washington's work requirements including information for individuals identified as ABAWDS and what the participation requirements are in order to maintain eligibility for Basic Food Assistance (BFA).  Important information is outlined as follows:
Federal Work Requirements
Who is an ABAWD?
What are the ABAWD requirements?
What areas in Washington State must meet these requirements?
Can individuals be exempted from this requirement?
What do I do if my Basic Food ends because of the ABAWD rules?
Current ABAWD Focused Events
**For a downloadable version of the information shown below, please click here to open the Washington State's ABAWD Policy & Work Registration Guide (Published Jan 2019)**
Federal Work Requirements
Federal regulations require certain individuals receiving BFA to meet work requirements in order to continue receiving benefits. These requirements affect individuals identified as ABAWDs (Able Bodied Adults without Dependents). In Washington, ABAWDs living in non-exempt counties must work or participate in work related activities if they are not working or have approved exemptions.
Who is an ABAWD?
As outlined in WAC 388-444-0030, ABAWDs are a subpopulation of Work Registrants who:
Are ages 18 through 49;
Not receiving any food benefits for minor children in their household;
Reporting no exemptions and not identified as an exempt work registrant (more information under exemptions below); and
Able to work and have no physical or mental disabilities, injuries, or health issues that prevent them from working.
What are the ABAWD requirements?
If you are an ABAWD living in a non-exempt area (see map below), you will only receive 3 months of Basic Food benefits unless you do one or more of the following:
Work at least 20 hours per week averaged monthly (80 hours per month);
Volunteer in the community through Workfare monthly. Please see a list of Workfare sites. The number of volunteer hours is determined based on the benefit amount divided by state or local city minimum wage; or
Participate in state approved employment or training programs. Please see a list of approved programs. This page will be updated as new programs are added. For more information, please click here to see the list of approved programs. 
What areas in Washington are required to participate?
Effective January 1, 2020 through December 2021, ABAWDS who live in King County are considered non-exempt.  However, individuals who reside on the MUCKLESHOOT RESERVATION are exempt.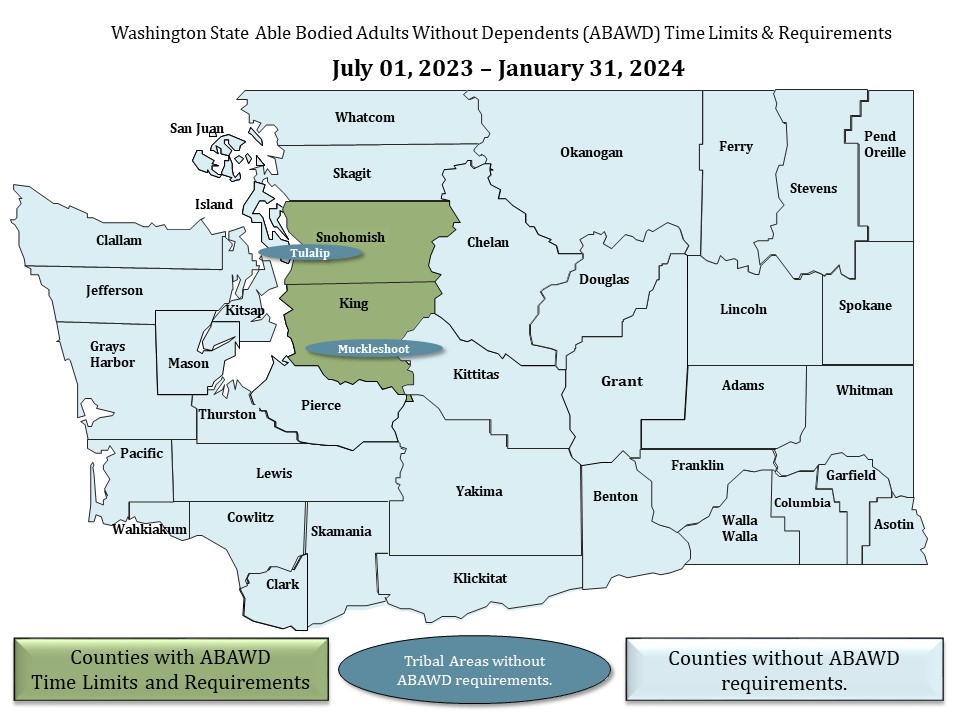 Can individuals be exempted from this requirement?
Some people on Basic Food are exempt from ABAWD work requirements. The exemption rules can be found in WAC 388-444-0035 and 388-444-0010. In general, you are exempt from the ABAWD requirements if you are:
Living in an exempt area;
Under eighteen or over forty-nine years old;
Determined to be physically or mentally unable to work;

Unable to work at least twenty hours a week on average
Receiving L&I, Veterans, or private disability insurance

Caring for a person who is incapacitated;
Receiving food benefits in the same assistance unit as a minor child;
Applying for or receiving unemployment benefits;
A student* in school at least half time;
Participating in a chemical dependency treatment and rehabilitation program; or
*A student enrolled in higher education must meet the requirements under WAC 388-482-0005 in order to be eligible for Basic Food.
What do I do if my Basic Food ends because of the ABAWD rules?
If you received three months of benefits and were closed for not participating, you may reapply and requalify for benefits by participating in specific activities. The date your benefits start depends on the type of requalifying activity:
If you work, your benefits may start on the date we verify the 80th hour worked or participated in state approved programs*.
If you volunteer with Workfare, your benefits will begin on the date of your food application upon verification of site enrollment.
*You cannot requalify by enrolling in BFET because this program requires you to be active on food benefits.
If you stop working or participating in approved activities, you will receive a subsequent three additional months of benefits. If you use these 3 months of benefits, you will terminate again and will have to re-qualify. After this second instance, you will only receive food on a month to month basis and not 3 additional months. Your benefits will close and remain closed until you work or participate in approved activities.
What is DSHS doing to help ABAWDs?
DSHS is committed to creating opportunities to help ABAWDs meet work requirements and empower individuals to reach their full potential.  This includes:
Offering participation opportunities to ABAWDs, such as job fairs and community resources.
Training state staff on new ABAWD processes.
Providing support and referrals to Workfare sites.
Communicating with ABAWDs to ensure a clear understanding of work requirements.
Collaborating with state agencies, including WorkSource, the State Board for Community & Technical Colleges, and Workforce Development Councils
For further questions regarding ABAWD Requirements, BFET, or Workfare
For information regarding the ABAWD and Work Requirements Policy in Washington State, options for participation outside of Workfare such as community programs, and or if you are an agency interested in becoming a Workfare Site please email ABAWD@dshs.wa.gov;
Visit your local Community Services Office; or
Contact the Customer Contact Service Center at 1-877-501-2233