Welcome to the Washington State Basic Food Employment and Training Resource Website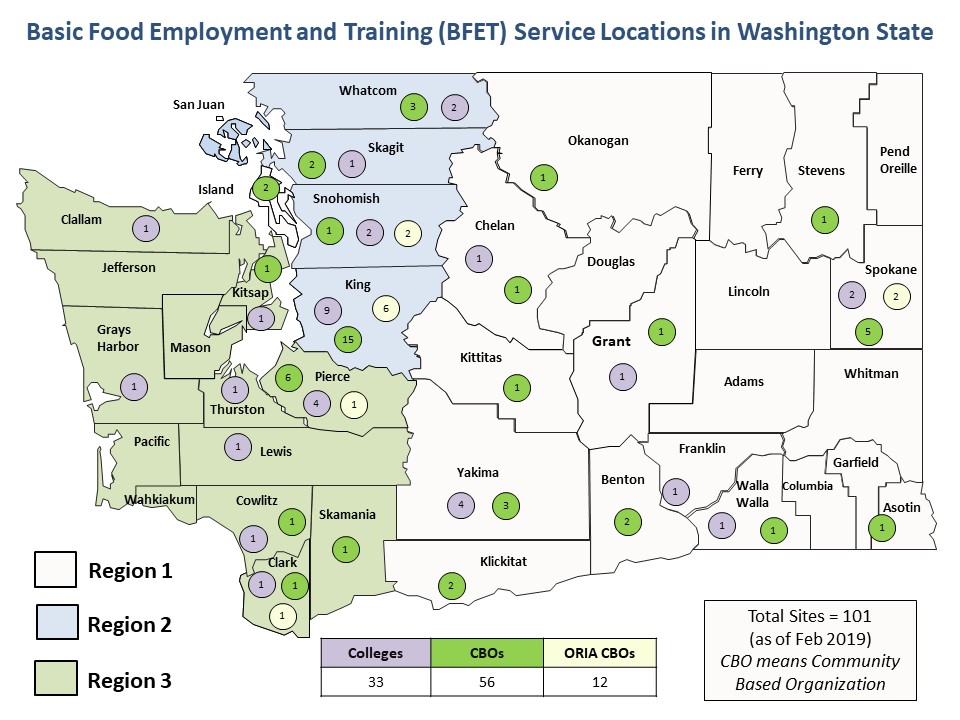 Program Overview
The Washington State Basic Food Employment and Training (BFET) program provides employment readiness opportunities to Basic Food (SNAP) recipients who are not participating in the Temporary Assistance for Needy Families (TANF) WorkFirst program.  Services are provided through all community & technical colleges and/or community based organizations (CBO).
BFET is an important part of the state's comprehensive workforce development system, serving the needs of low-income individuals, displaced workers, and employers by encouraging financial independence from public assistance through skill acquisition, personal responsibility and gainful employment.
Community Impact
As of Federal Fiscal Year (FFY) 2015, DSHS in collaboration with the State Board for Community and Technical Colleges (SBCTC) operate the BFET program by partnering with 27 CBOs and 34 community and technical colleges statewide. BFET provides employability assessments and a menu of services to eligible participants.
These services included:  
Assessment
Case management
Job readiness training
Basic Education (e.g., literacy, math, vocational ESL, high school equivalency preparation)
Vocational training
Job search assistance
Job placement
Participant reimbursements (support services, such as transportation, child care, housing, clothing, and skill/wage progression)
It's important to remember that not all CBOs provide all of these services.  Many agencies partner with other agencies to serve participants in order to provide better and more lasting outcomes.
Since BFET began in 2005, more than 50,000 individuals receiving food benefits have been served with employment training and support services.
The program has brought in over 40 million new dollars to local non-profits and Community & Technical Colleges to deliver program specific services to Basic Food recipients.
Outcome data for people who began BFET services during the 3rd calendar quarter of 2011, tracked for 2 years after enrollment in BFET, shows that 73% obtained employment with a median hourly wage over $11.00 per hour.
BFET Tri-fold Brochure (English) Publication 22-1681 Region 1
(East of the Cascades)
BFET Tri-fold Brochure (English) Publication 22-1682 Region 2
(West side: Whatcom south through King County)
 BFET Tri-fold Brochure (English) Publication 22-1683 Region 3
(West side: Pierce County, south and around the sound to Clallam)