Latest News   
August is Child Support Awareness Month
We are celebrating with outreach events throughout the state. Read more about our efforts and get a schedule of events going on around the state.
What does the DSHS Division of Child Support do?
We provide many services for parents and families, some of them may surprise you. Learn more about the services we provide with our new video.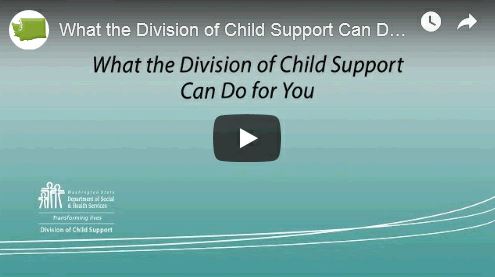 Attention employers
A new law took effect Jan. 1, 2019 requiring most employers to send us child support payments electronically. This topic and others will be covered in upcoming webinars. Go to the Employer page to find out more.
Questions about child support?
Please call us at 1-800-442-KIDS (5437). This automated system allows quick access to your case manager by entering your case number. If you do not have a case or know your number press "0" for staff assistance. For further information on how to use the KIDS line please see the full instructions.
Are you struggling to pay child support?
Contact our Alternative Solutions program specialists who will help you identify and overcome barriers to paying child support. Check out the video and see how it worked for one parent. If you think the program can help you, call us at 1-800-604-1146.
What We Do
---
We improve lives by delivering excellent child support services.