Announcements
RCC Image Description: Four people, all in black. Going clockwise, the woman at the top has short hair with bangs and a phone receiver on her left ear. Next, a man with a moustache has a phone receiver on his left ear and is sitting at a laptop. Next, a man in a suit is wearing a headset and sitting at a laptop. Finally, a woman with short hair has a phone receiver on her right ear. In the middle is a globe with a phone receiver with arrows labeled "VOICE" going back and forth to the globe. The man with a moustache has an arrow labeled "VOICE" going to the globe. The man with a headset has an arrow coming from the globe and then an arrow going to the man with the moustache labeled "TEXT."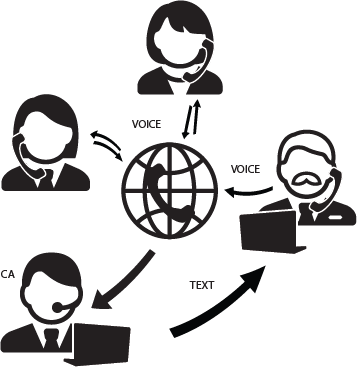 ODHH recently announced the availability of a service called Remote Conference Captioning (RCC) which offers real-time captioning through the use of Communication Access Real-time Translation (CART) service. This new service allows individuals who are deaf or hard of hearing to access an internet-based video conference call or audio bridge by providing captioning of what speakers, presenters and participants are saying during the conference call. This service provides a clear understanding of what's said and allows the individual with hearing loss to participate in conference calls in a more effective manner.
How RCC Works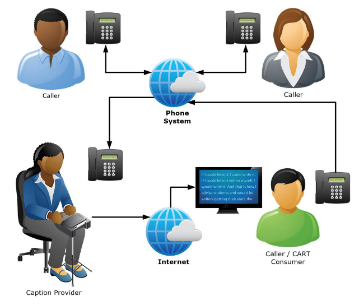 ​ The RCC user will receive a link in order to view text. A computer or mobile device along with an Internet connection is required.
The captionist will need access to the audio portion of the call through either a conference call bridge or other method.
Once the call is connected, the captionist listens to the conversation and produces real-time streaming text, which is sent over the Internet.  The text shows up just seconds after someone has spoken.
At any time, the RCC user can scroll up to review text.
Once the call is complete, the RCC user can copy or print the raw, unedited transcript through the "Transcript" button.
For more details about RCC, please see these Frequently Asked Questions.
Requirements to Use Remote Conference Captioning
Conference bridge access for the captionist so they may listen to the audio portion of the call.
A computer, laptop, tablet or smartphone with access to the internet.
There is no software to download in order to use RCC and access to RCC services will be available via a StreamText link that will be provided after the RCC request has been completed.
You must be a deaf or hard of hearing person and a resident of the state of Washington to use this service.
Requesting RCC Services
Request RCC services by completing the RCC Scheduling Request Form using the RCC link below. After submitting the form, you can expect an email confirmation within 24 hours. If you require assistance with RCC during weekend or holiday hours, please email Customer Care at info@hamiltonrelay.com or contact the RCC team via Live Chat for immediate assistance.
If it's necessary to cancel your RCC request, we encourage you to please make every effort to cancel services within 24 hours of the scheduled request. Requests that are not canceled within 24 hours will be billed to ODHH.
To request RCC services, complete an RCC Scheduling Request Form online at https://hamiltonrelay.com/washington/how-it-works/rcc-remote-conference-captioning.html. After submitting the form, you can expect an email confirmation within 24 hours.
Do I need to make any Zoom Settings to ensure I can view RCC captioning?
Yes, For RCC captioning to work, the Host will need to turn on captioning in their Zoom settings before starting a meeting.You can do this by clicking on "Accessibility" in the menu and enabling "Closed Captioning is available" and "closed captioning typing privilege granted/revoked".The person viewing the captions will also need to enable captions on their Zoom software. They can do so by using the same instructions for the Host.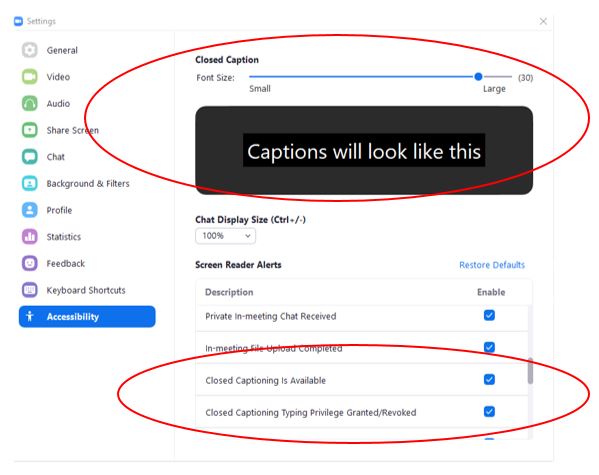 What do I need to do to set up captions on MS Teams?
MS Teams has a captioning option called Automatic Speech Recognition (ASR) which is known as Artificial Intelligence (AI) captioning.ASR captioning is about 94% accurate and is still learning to translate various voice tones.MS Teams does not presently have an option to select CART/RCC embedded captioning or transcripts, however you can use the RCC StreamText option on a separate browser screen.If StreamText is preferred, the CART/RCC provider will submit the StreamText link prior to the video/audio conference meeting.Below is an example of StreamText captioning.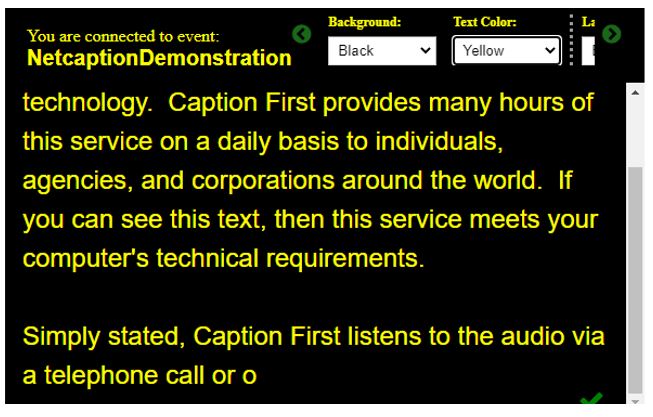 As a meeting Host, how do I assign the RCC captionist to provide RCC services in Zoom?
When you start your Zoom meeting, the captioner will appear on the participants list, click on the captioner and choose "assign to type captions" and give the captioner a few minutes to get the API token and redirect the text to your Zoom meeting.

Which RCC captioning options can I select?
Participants can view captions on Zoom by clicking on the closed caption icon at the bottom of the screen and select subtitles or transcript.The person viewing the captions will determine which is best for their viewing. A third option is called StreamText, the CART/RCC provider will submit a web link that's separate from Zoom and this permits the participant to view captioning on a full screen.(Usually a 2nd monitor, tablet or smartphone).

Can I use Washington's RCC services for my out of State meetings?
The RCC services available only to Washington State residents and video/audio conferences conducted within Washington State. Other states may or may not have their own RCC services.
Do I need to process a payment invoice to pay for RCC services?
RCC services is free and is paid for through the Washington State ODHH WATRS program.
Does RCC Services replace CART services?
No, we encourage using CART services through DES for large and on site meetings as needed.  RCC services is designed for internet-based captioning services for deaf, had of hearing and deafblind clients, community members, and employees who attend their internet-based video/audio conference meetings.
Who do I contact if I have questions or concerns about RCC services?
If you questions, please contact Washington Relay Customer Care at the following contact info:
Voice/TTY: 800-974-1548
Spanish Voice/TTY: 866-744-7471