Pandemic EBT is expanded to Children under Age 6!
The USDA Food and Nutrition Service has approved Washington state's plan to expand P-EBT to children who: 
•    Are age 0 to 6;
•    Live in a household with an active Basic Food Assistance account between Oct. 1, 2020 and June 30, 2021; and
•    Live in a county with a school that participates in the National School Lunch Program and School Breakfast Program that has limited on-site meal service. 
Eligible children will receive approval notices in late July 2021 and a P-EBT card shortly after. Families do not need to apply for these P-EBT benefits. This card is to be used in addition to your normal Quest EBT card. We will provide more information here about timelines for issuing these benefits as soon as we are able. More information is available in this new Frequently Asked Questions document.
Families who are not active on Basic Food assistance are encouraged to apply for food assistance by completing an application online at www.washingtonconnection.org or calling the Customer Service Contact Center at 877-501-2233. Households approved for Basic Food are automatically reviewed for P-EBT eligibility. 
Pandemic EBT for School Year 2020-21 is here!
Due to COVID-19, children who are eligible for free or reduced-price school meals will get extra food benefits. These food benefits are called P-EBT. P-EBT benefits help Washington families buy food when schools are closed or have reduced in-person attendance.
School Issuance June:
P-EBT benefits for children in school are scheduled to be released this weekend for the remainder of the 2020-2021 school year. Families should expect the following:
April, May and June 2021 P-EBT benefits will be issued this weekend.
Amounts may be less as school may report the majority of students are on-site learning.
Benefits will begin to be issued between June 19 - June 22.
Please keep your card as we may continue to reload benefits into the summer months.
The second round of P-EBT eligibility letters for February and March 2021 were mailed out on April 20, 2021. Our next tentative P-EBT eligibility notices and benefit schedule is planned for June 2021:
| Benefit Issuance | P-EBT Months |
| --- | --- |
| March 2021 | September 2020 to January 2021 |
| April 2021 | February and March 2021 |
| June 2021 | April, May and June 2021 |
For your convenience, most of the answers to your questions are provided above in the P-EBT FAQs in many languages or by going to the EAZ Manual – Pandemic (P-EBT) Program.
Updates and additional questions not found on the FAQ:
I reported an address change to my school, when will we get the replacement card?
With summer approaching, we are working with our contractor, Accenture, to implement a long-term solution to the address-change process. In the meantime, if families need a new P-EBT card mailed to a new address, they will have to wait until schools can provide the new address to our contractor, Accenture. Families who have a new mailing address should review the following steps:
If the address change was already reported to the school, we began accepting address changes from schools between May 20 and June 14, 2021. We are asking schools to validate the new address before we update addresses to reduce instances of inadvertent deactivation of cards.
Starting June 17, families can call the P-EBT Contact Center to request their address to be changed, but should know that a card replacement will NOT be issued and that the address with FIS will be changed by June 23, 2021.
No later than June 23, 2021, new, validated addresses should be reflected in FIS (the P-EBT card vendor) and families will be able to call FIS for a replacement or request the replacement card be sent to their new address via the ebtEDGE mobile app or at www.ebtEDGE.com.
Starting June 23 – P-EBT contact center can start taking address changes and replacement card request directly.
My child attends a virtual academy. Do they qualify?
No. Your child needs to have access to on-site school meals at the start of the school year if not for the COVID-19 pandemic.
Why is my child's name on this letter?
P-EBT eligibility letters are addressed to each eligible student. Students across the state have different living situations and may not always live with a parent. Letters and P-EBT cards are listed under the student's name for this reason. We are using the student's verified address of residence listed with the school to send these letters and P-EBT cards. This is in accordance with our state plan and Washington Administrative Code.
Why aren't the P-EBT benefits going to be loaded to my Quest EBT card?
Many students who receive free or reduced-price meals are not on food assistance programs and do not have a Quest EBT card. To get P-EBT benefits to the most children across the state, we have placed them on a new P-EBT card.
I received the letter.  When will P-EBT cards arrive?
Eligible children should expect to receive a letter by mail, which will contain more information. The P-EBT card will be mailed separately in the following weeks. As of April 28, most cards for children eligible from September 2020 to January 2021 have been mailed and may take seven to 10 days to arrive.
In the coming weeks, children newly eligible for February and March 2021 will receive a card. This means that if you just applied for meal benefits and became eligible in February or March 2021, your card may arrive sometime in May.
 
Additionally, if your child became eligible for free or reduced-price meals in April or becomes eligible in May or June, your card may arrive sometime later in June. All households will receive an eligibility letter prior to receiving their card in the mail.
Am I going to keep getting P-EBT benefits?
Students should expect to receive notices in late April 2021 about their one-time, retroactive payment for February and March 2021. Future benefit amounts may change as amounts are based on the learning model for the majority of students at each school. As schools return to in-person learning, benefit amounts will decrease. Any additional rounds of benefits will also be added to these cards, so please don't get rid of them when you have used the benefits from September 2020 to January 2021.
Do I need to claim P-EBT benefits on my taxes?
No. P-EBT benefits are not taxable under the Federal Income Tax rules.
Do I need to pay back these benefits?
No. Students who receive P-EBT benefits don't need to repay them.
Are P-EBT benefits subject to public charge rules?
No. P-EBT benefits are not subject to Public Charge rules.
Additional Information
Who is eligible?
Children are eligible for P-EBT benefits if:
Their school is closed or has reduced in-person attendance hours.
They are eligible for free or reduced-price school meals.
How do families apply?
Families don't have to apply for the P-EBT Program! DSHS is working with schools to automatically determine eligibility for students enrolled in a school that offers free or reduced-price school meals. Families or students should continue to ensure their current mailing address is on file with the child's school and are encouraged to fill out a school meal application if their child doesn't get free or reduced-price meals already.
What does the P-EBT card look like?
Watch the mail for a card that looks like this!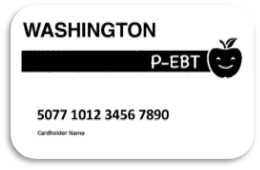 The P-EBT card is separate from and doesn't replace a food or cash (Quest) EBT card.
How are P-EBT benefits used?
P-EBT benefits can be used like a debit card to buy food in most grocery stores and farmers markets, or to buy food online at Amazon or Walmart. Families can also use their P-EBT to get double the amount of food at participating farmer's markets! Learn more at DOH SNAP Market Match. 
Should I keep my P-EBT card after funds are used?
Yes! Additional benefits may be issued to the card for as long as the COVID-19 public health emergency continues. 
Families are encouraged to participate in Grab-n-Go school meals at school even if they have P-EBT benefits. This meal finder tool can help families find schools and other locations serving meals to children. Participating in these meal services does not prevent eligible children from getting P-EBT benefits.
Visit this page often for any updates.
 For questions, please contact the P-EBT Contact Center at 833-518-0282.
Links:
- Radio Spots (coming soon)
- Schools and organizations providing meals to children during COVID-19